Bangladesh v Zimbabwe, 4th T20I, Khulna
Taskin blooper and bungles to remember
The clumsy drop
Richmond Mutumbami slammed Abu Hider for two fours past mid-off and mid-on before the left-armer tricked him with a slower bouncer. Mutumbami top-edged an attempted pull towards Taskin Ahmed at short fine-leg, but Taskin dropped an absolute sitter, the ball hitting his head before dropping down on the ground. Taskin would have felt a bit of relief when the captain Mashrafe Mortaza himself dropped Masakadza a few overs later.
The belated sprint
In the fifth over of Zimbabwe's innings, Hamilton Masakadza ripped his wrists to lift Taskin Ahmed over midwicket. He did not follow the path of the lofted shot, but suddenly he looked up and saw the ball going too high without a fielder under it. Thinking it could fall inside the rope, he started to run while his partner Richmond Mutumbami kept strolling. However, the ball had by then ended up in the stands at midwicket.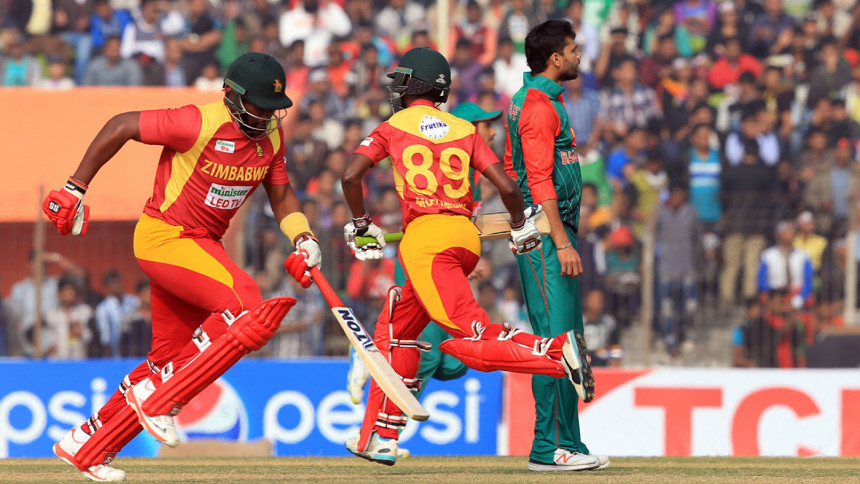 The cathartic roar
After the dropped catch, Taskin had a better day bowling three very good overs. He also took the important wicket of Malcolm Waller who was looking dangerous for Zimbabwe. Taskin's celebration after he nailed Waller with a yorker was one to remember, as he ran hard past his team-mates and screamed towards the crowd. Perhaps he was told a few things after the dropped chance.
The short gap finder
Neville Madziva bowled Tamim Iqbal with a slower delivery that ended up as a yorker, and found very little gap between the batsman's jammed down bat and slow feet. The gap was miniscule, perhaps as wide as the ball itself. But it stunned Tamim, even as the bowler ran off in celebration. Replays confirmed that it was a precisely bowled slower delivery.