Tigers are clear about combinations, says Sriram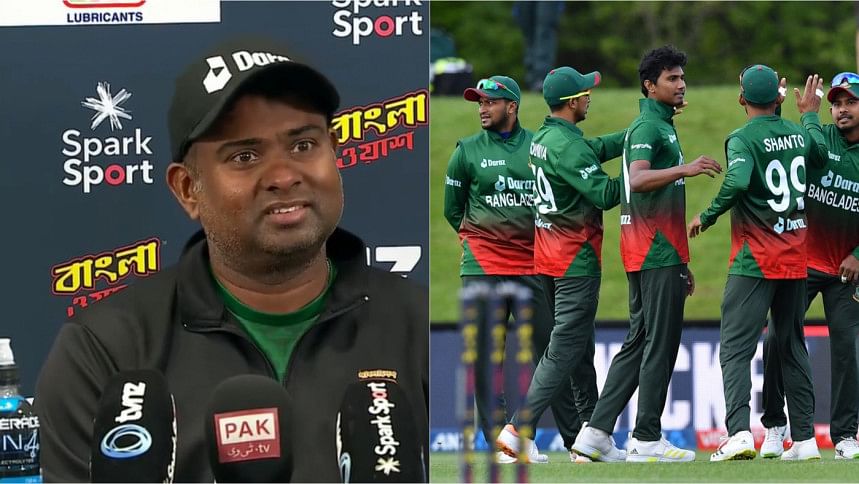 A number of issues, especially in terms of team selection, raised eyebrows following Bangladesh's winless exit from the ongoing tri-nation series in New Zealand.
The Tigers lost all four matches, two each against Pakistan and the hosts, illustrating a bunch of issues the Tigers are facing in T20Is ahead of the T20 World Cup in Australia. However, Bangladesh technical consultant Sridharan Sriram said that despite the results not going in their favour, he has come out with clarity about team combinations.
Before coming to New Zealand, in order to ramp up World Cup preparations, Bangladesh played a two-match T20I series against a feeble UAE, and it was expected that several changes would be made to test out the squad.
But it was not to be as Bangladesh kept a fairly rigid playing eleven against UAE and instead chose the tri-nation series, involving top sides in Pakistan and New Zealand, to experiment with the playing eleven.
All players were tested, with the exception of Mahedi Hasan and Rishad Hossain as the duo didn't travel to New Zealand.
The team management tinkered with four different opening combinations in the tournament. Liton Das, Mehedi Hasan Miraz, Sabbir Rahman, Najmul Hossain Shanto, and Soumya Sarkar -- a reserve player for the T20 World Cup -- were all given a go at the top. Ultimately, no pair could manage to meet expectations, leaving questions on who will open in the fast-approaching T20 World Cup in Australia.
Sriram, though, defended the string of changes by saying it helped him to gain clarity in terms of team combinations and, at the same time, got everyone prepared.
"You look at it as experiments, but we look at it as different combinations. I don't think it's experiment. You learn about your players when you put them in different situations and learn how each of them responds. I think we have learned quite a bit and we're very clear about the combinations we go with against different teams," Sriram said in the post-match press conference on Thursday.
"For example, for South Africa, we will have different combinations compared to when we go up against India or West Indies, or whoever qualifies. We have to have all options ready.
"I think we might have to play an extra spinner or extra fast bowler, and I think we have that base covered in that sense. In our heads, we're very clear on how to approach it," he added while explaining the chances offered to different players helped to get the Tigers prepared for the marquee event.
With the T20 World Cup starting in three days, Bangladesh, who are scheduled to play their first Super 12 match on October 24, are yet to decide on a settled playing eleven. There is also a lot of traction on making changes in the squad, with possible additions and omissions amongst the selected 18.
Sriram will have further options to try out favourable combinations and strategies as the Tigers will get two warm-up matches against Afghanistan and South Africa on October 17 and 19, respectively, before going into the main event.
On Thursday, Bangladesh's batting clicked as they scored their highest total in the series, a 173 for six, but sub-par fielding and bowling efforts let them down.
In this hyper-specialised era of cricket, it is difficult for a team like Bangladesh to bank on one or two players to turn a match on its head. With reference to previous records, it can be seen that the Tigers fare much better when they perform as a unit, with several standout performances going their way.
"It's not about one slot…I think for Bangladesh to win the game, everything has to come together. It's not only about the opening slot or just about the pace bowlers. It's about the entire team," Sriram further said.
"We had two opportunities against Pakistan. We had to score 100 in the last 10 [overs] in the first game and we had to defend 100 in the last 10 in this game. We came up short in both games by a small margin but these are little margins where we got to learn.
"If you want to win consistently, teams do that by getting 10 runs an over at the back end, or defending 10 runs at the back end, are what really good teams do. I don't think it's about one particular slot or player but it's about the whole team and all facets of the game coming together," added the Tigers' technical consultant.