Shakib had warned Sohan the previous ball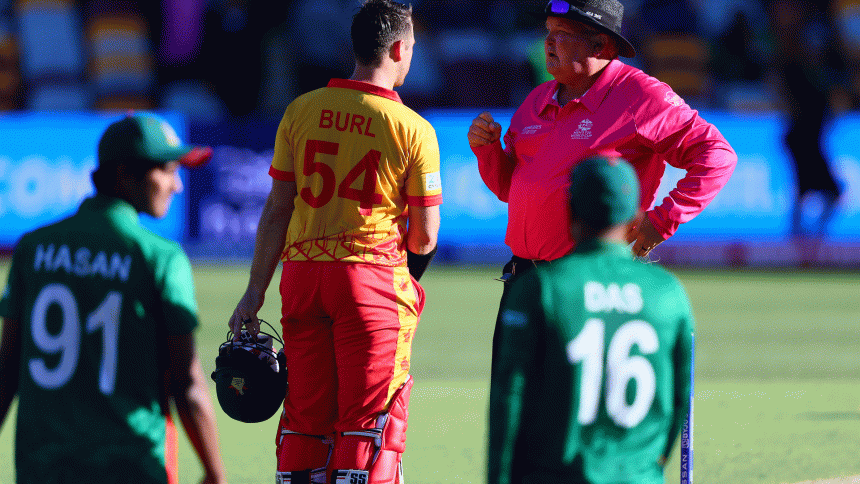 Bangladesh captain Shakib Al Hasan said he had asked wicketkeeper Nurul Hasan Sohan to be careful about his positioning a ball before the final delivery, but to no avail.
Speaking to Michael Atherton in the post-match presentation, the Bangladesh captain also defended his decision of using up his two main fast bowlers – Taskin Ahmed and Mustafizur Rahman – within 17 overs.
Bangladesh thought they had won the game when wicketeekeper Nurul Hasan Sohan wiped the bails off of Blessing Muzarabani off the last ball of the match bowled by Mosaddek Hossain, defending four runs. As the players and support staff celebrated the victory and left the field, they were brought back as replays suggested Sohan had gathered the ball just in front of the stumps – turning the delivery into a no-ball.
They were back again, Mosaddek bowling on a free-hit, defending three this time. Sohan made no mistake this time as he collected the ball, which Muzarabani missed again, and did not dare break the stumps before Muzarabani had his foot in. The mistake on the previous delivery didn't cost Bangladesh much in the end and Shakib was understandably a relieved man.
"The ball before the last one, I saw Sohan, our wicketkeeper, coming close to the stumps when gathering the ball. I had asked him to be careful, but it happened," the Bangladesh skipper said with a smile.
When asked whether his decision to bowl out the pacers early was a conscious choice, Shakib said, "Yes, we knew they have seven batters. So we needed to take wickets at that stage. And the pacers have been bowling great. So I brought them on," Shakib said, adding that he felt his run-out of Sean Williams was a turning point of the match.