Brazil defeat makes Argentines happy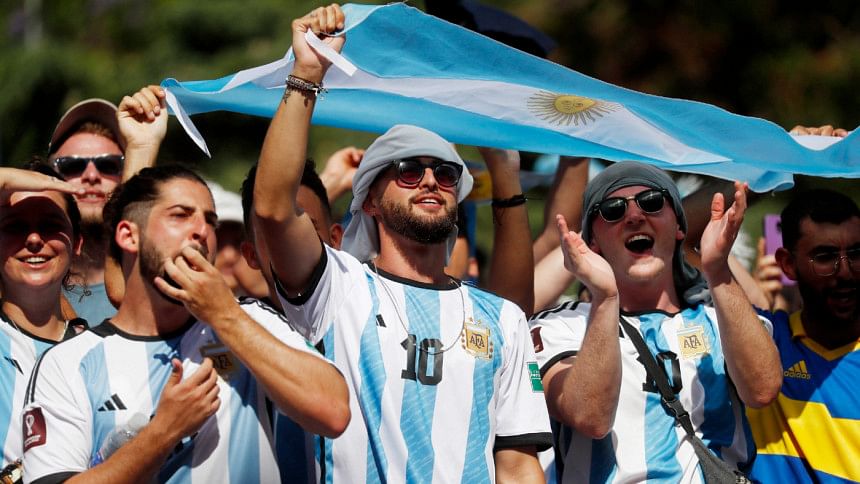 However tempting the prospect of an Argentina-Brazil semifinal may have seemed to the neutrals, the Argentines were apparently against that idea, and Brazil's defeat against Croatia in the quarterfinals visibly left them relieved, if not outright happy.
The road to the Lusail Stadium on the outskirts of Doha on Friday evening was a sea of Sky-blue and white as droves of Argentina fans made their way via the Doha Metro to the venue, singing their football songs on their idols – Diego Maradona and Lionel Messi.
It was already past the regulation time of the Brazil match and the curious Argentina fans kept a close eye on proceedings of that match. When Neymar scored the opening goal, there was a collective gasp from the Albiceleste fans, but their despair soon turned to cheer when substitute Bruno Petkovic scored the equaliser, three minutes from the final whistle.
And then every time Croatia converted their spot kicks and every time a Brazilian effort was saved, there was a loud cheer from the Argentina fans. They were, it seemed, given the best gift even as their team were yet to appear for the test.
Diego Moretti from Buenos Aires, who came with his friend and kids, said the team was better off not facing Brazil because that would put the players under a lot of pressure.
"I like Brazil but don't want the team to face Brazil. It would be too much for the team and for myself," Moretti said. 
"The Netherlands are a good side and anything can happen in this match, but I'm happy Brazil are out," Moretti added with a big grin.
At the entrance to the venue in Lusail, Cristina was taking selfies with a friend, both from the Argentine capital to watch Lionel Messi and Co in action. 
Moretti's thoughts were reflected in most of the fans of Argentina, even though there were a few exceptions, like Cristina, who was in a hurry to get into the venue much ahead of the kickoff.
She was confident her team would win against the Netherlands but said she wanted Brazil to play against Argentina.