Everything is fine in the dressing room: Tamim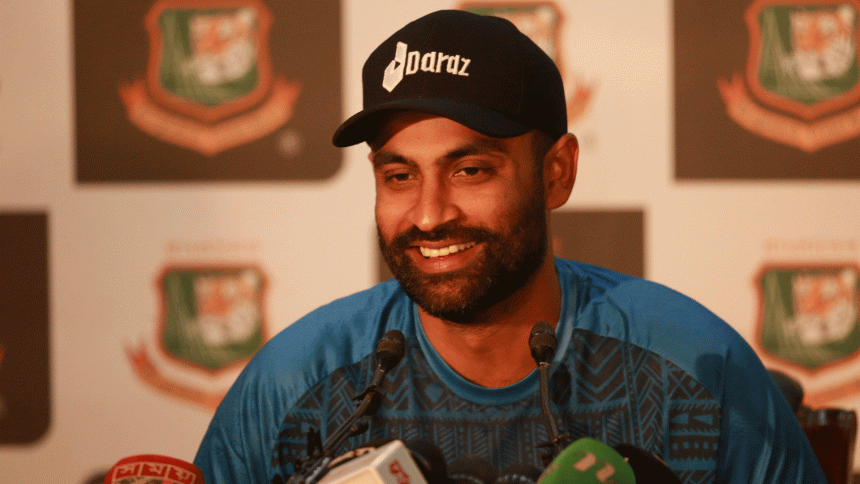 Bangladesh ODI captain Tamim Iqbal has claimed that everything is fine within the team as he tried to brush aside BCB president's claims of a rift between him and Shakib Al Hasan, during a press conference on Sunday.
Tamim was speaking to reporters during a pre-series press conference in Mirpur ahead of three-match ODI series against visiting England side. While there were questions about his team and the opponents, the highlight of the press conference was his relationship with Shakib and the overall environment of the team following an interview the previous day of Nazmul Hasan where the BCB boss said there was a rift between the two senior players and that the atmosphere of the dressing room was not healthy.
When asked about it, Tamim said: "Everything is fine....The atmosphere within the dressing room is very good, and that's not just for today but has been like this for long. You've seen the results. We have been doing good in ODIs for the last five years. When the dressing room is happy, results like these come. Everything is quite normal."
Even long before Nazmul's explosive revelations, the perceived enmity between Tamim and Shakib has been rumoured around the cricketing circle. And many feel that it has adversely impacted Bangladesh's ODI performance over time. However, Tamim said they play like professionals when they get on the field.
"I think the most important thing is when Shakib or I come to the field wearing the Bangladesh team jersey, I give my best and he gives his best. When I'm the captain, I seek for his advice and Shakib gives it, and the same happens when he is captaining. There is nothing beyond that," the 33-year-old cricketer said.
A closed-door meeting with Shakib and Tamim had taken place once and the latter was positive about mending things. When Tamim was reminded of that meeting and asked if it is possible to mend the relationship with the Test and T20I skipper, Tamim said: "Everything is possible. Whatever happened was between two individuals and very important members of the team. Whatever happened there should have stayed in the room."
Tamim will lead Bangladesh in the three ODIs against England starting on March 1 before Shakib takes over for the three T20Is.