'No one even tried to hit a six'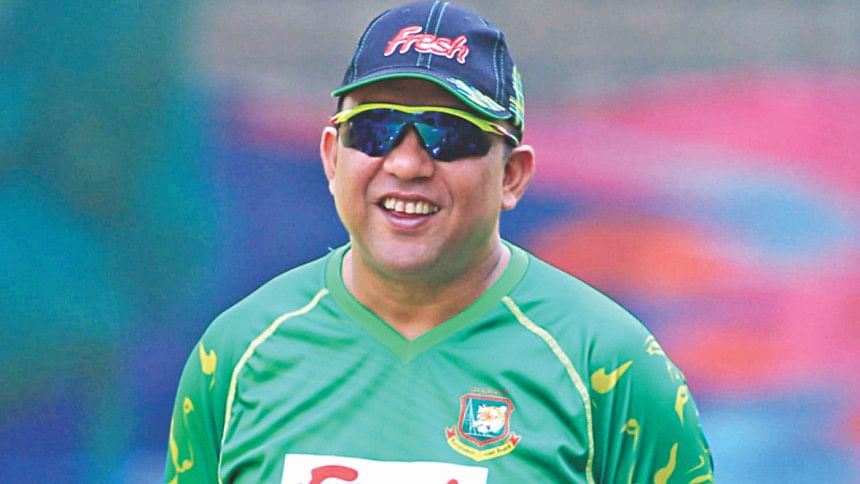 Bangladesh team director Khaled Mahmud Sujon slammed the cricketers, saying that no one from the Tigers' side even made an effort to win the final T20I against Zimbabwe in Harare yesterday. 
"I could not notice the urge in the players. When we needed to score 10-12 runs per over, we were scoring 6-7 runs an over," said a dejected Mahmud to the media today. 
Bangladesh fell 10 runs short of the 157-run target in the final T20I, succumbing to their first-ever bilateral T20I series defeat to Zimbabwe. 
And the fact that Bangladesh players weren't courageous enough to charge the Zimbabwe bowlers even when the run rate kept creeping up baffled Mahmud. Mahmud even said that he felt as if the players were playing to solidify their position in the playing eleven.  
"I did not see anyone even trying to hit a six. All of them were dealing in singles or doubles. It felt as if they were playing to solidify their position in the eleven. It was as if they were trying to keep themselves safe by scoring some runs," Mahmud added.   
Mahmudullah Riyad, who was called into the playing eleven for the game for the first time since being stripped of captaincy, could not make a statement as he got dismissed after a run-a-ball 27. Afif Hossain remained unbeaten for 39 but was unable to hit a six during his 27-ball knock. In fact, only six of Bangladesh's innings came from the willow of Mahedi Hasan, who scored a 17-ball 22. 
"If you bat at a strike rate of 90 or 100 or even 110, you won't be able to win the game as the target is 157. At least one or two players need to step up. If you look at the strike rates of their two batters [Ryan Burl and Luke Jongwe], you will realize how they managed to change the momentum of the game. 
"I never saw anyone from our team show that kind of aggression. You can easily hit boundaries on short deliveries here [on such surfaces]. But if you don't have that belief and ability then it's a problem," Mahmud added.