Bangladesh fastest to 100 Test defeats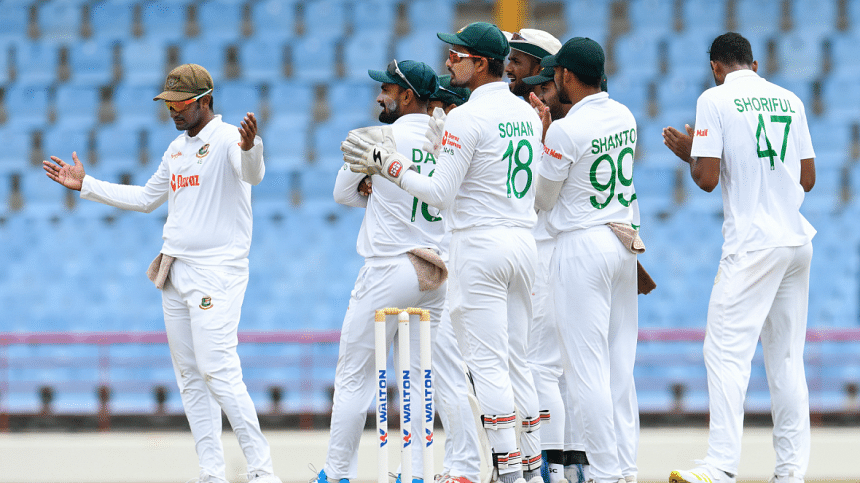 Bangladesh reached the elusive three-figure mark in Test defeats when they succumbed to a 10-wicket defeat on Day Four of their second Test against the West Indies at the Daren Sammy National Cricket Stadium in Saint Lucia on Monday.  
The defeat saw the Tigers get whitewashed in the two-match series and also become part of an unwanted record as Bangladesh became the quickest to 100 defeats in Tests.
Bangladesh, in their 22 years of playing Test cricket, took only 134 Tests to reach the feat. During this time, the Tigers have won 16 while drawing 18 matches.
No other teams have tasted 100 Test defeats quicker than Bangladesh. New Zealand come the closest in this regard as the Kiwis suffered their 100th Test defeat after playing 241 Tests. However, the Kiwis won 33 matches before reaching the three-figure mark in defeats.    
It took Sri Lanka 35 years and 266 Tests before succumbing to their 100th Test defeat. During that period, the Lankans won a total of 84 matches.  
Next comes South Africa, who played Test cricket for 114 years before suffering their 100th Test defeat in their 279th Test. The Proteas won 90 matches during that period.  
India played 303 Tests, Pakistan 357 Tests and West Indies featured in 368 Tests before suffering their 100th defeat in Tests. India, Pakistan and the Windies won 57, 107 and 138 matches respectively before completing the ton in defeats.
Australia played the most number of games before their defeat column completed century. The Aussies played 374 matches and had won 170 Tests before their 100th defeat in the format.
England played 347 Tests and won 139 of them before losing 100 Tests.  
Stats: Number of Tests taken to reach 100 defeats
Bangladesh: 134 Tests
New Zealand: 241 Tests
Sri Lanka: 266 Tests
South Africa: 279 Tests
India: 303 Tests
England: 347 Tests
Pakistan: 357 Tests
West Indies: 368 Tests
Australia: 374 Tests