Donald has 'no idea' why Shakib has not bowled more overs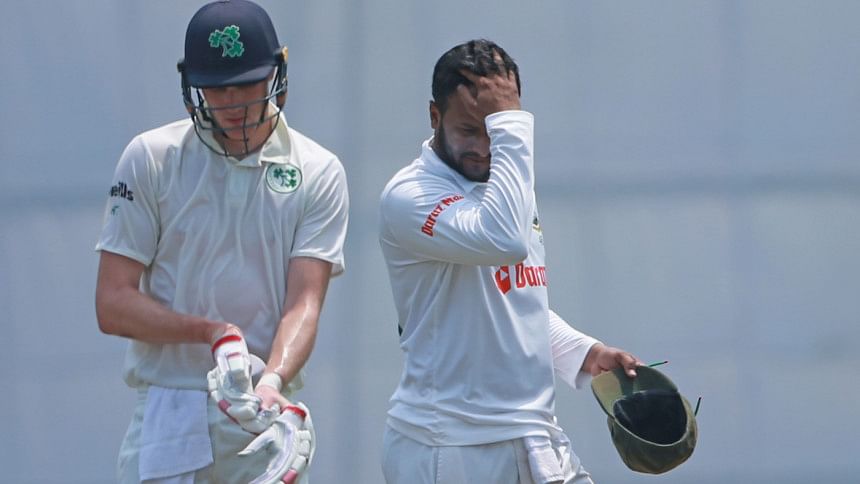 Bangladesh skipper Shakib Al Hasan's decision to not introduce himself into the bowling attack till the 66th over of the first innings against Ireland raised a lot of questions on the opening day of their lone Test in Mirpur. Shakib, eventually, bowled only three overs on that day. 
The star cricketer, however, did take the new ball in the second innings, bowling brilliantly to pick up two wickets in seven overs to leave Ireland reeling at 27 for 4 at stumps on Day 2. 
With Ireland trailing by 128 runs with just six wickets in hand, Bangladesh were desperate to wrap things up quickly on Day 3 today. However, Shakib bowled just three overs at a stretch in the beginning but did not come to bowl for a long time even though the Tigers were desperately looking to halt the Irish fightback. 
After bowling three overs in the first spell, Shakib went on to bowl just three more overs, split in three different spells, throughout the day. He bowled the last over before lunch and then came in the 83rd over of the innings after taking the new ball. In his final spell on the day, Shakib bowled the 90th over of the innings and did not come into the attack since then. 
On a bleak day for Bangladesh bowlers when Ireland kept building partnerships, Shakib, who had been lethal with the ball the previous day, bowling just six overs once again raised a lot of eyebrows. 
Lorcan Tucker's maiden Test hundred and Andy McBrine's fifty saw Ireland stretch their lead over 100 runs by the end of the day.  
Bangladesh pace bowling coach Allan Donald, who faced the media after the day's play, was asked whether Shakib had any injury concerns, and he replied: ''I must admit, I have no idea. (is he fit?) He seems fit. He came off a couple of times just for bathroom breaks. But I'm not quite sure. I think he, you know, wanted to maybe give the [rest of the bowling] attack a chance to go and do the job but I really don't know why he hasn't bowled enough today.'' 
''You know, 13 overs, two for 20-odd. I thought the second new ball, when we took it today, was going to be a big factor. And it honestly didn't spin that much like it did last night. I thought it was going to be a new ball type of pitch, and once you get in on this wicket, you could score runs. But no, I'll leave that question you asked for Shakib," Donald added. 
Ireland finished the day in a far better position, scoring 286 for eight in their second innings and taking a 131-run lead. In fact, Ireland's fightback from 13-4 to 286-8 is the best recovery in Test cricket after a team lost the first four wickets for 15 or less. Ireland added 273 runs after losing their first four wickets which saw them break the 31-year-old record of Australia when the Aussies had added 262 runs after losing the first four wickets for just nine runs in a Test against Sri Lanka in Moratuwa.    
Donald mentioned that the scenario could have been different had Shakib bowled more overs. 
"Yeah, I'm sure [the scenario would have been different had Shakib bowled more overs], because what Shakib does amazingly well is he shuts one end down. He's such an experienced campaigner, he varies his pace really smartly. Although there was no real turn all day long, I thought he could've been a guy who could control one end and really shut [runs from] the other end down.'' 
''But listen, I'll go back to the other guys as well. I thought [Mehedi Hasan] Miraz, Taijul [Islam], and all the three seamers tried their guts out today. And it didn't quite happen. But tomorrow morning's going to be a big one. I mean, they are 130 runs ahead now if I'm correct. So, tomorrow we got to take wickets quickly and get to batting," said Donald.