Simanta lifts her best
Finishes sixth among 13 lifters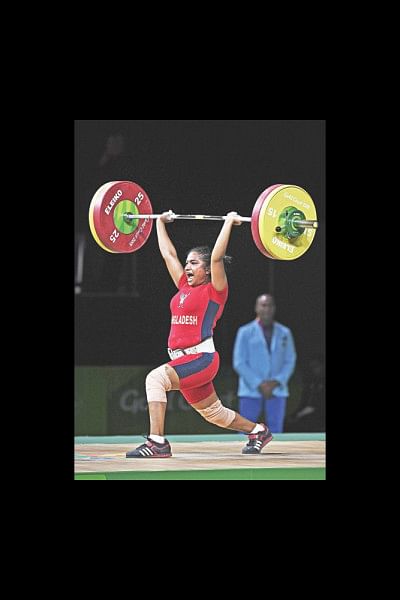 Weightlifter Mabia Akter Simanta cried tears of joy two years ago in Guwahati, India when she won the gold medal in women's 63kg weight category, beating a more-fancied Indian opponent. Yesterday, the girl from Dhaka failed to get into medal contention at the Gold Coast Commonwealth Games, yet she beamed broadly, for she lifted her best ever weight and in doing so, salvaged a beat of pride for the country, to whom these games mean little else but participation.
Simanta finished sixth among 13 competitors at the Carrara Sports Arena yesterday, lifting 78 kilos in snatch and 102 kilos in clean & jerk for a total of 180 kilos.
Her previous best was 179 kilos, which she had lifted during the Islamic Solidarity Games in Azerbaijan last year. She had lifted 176 kilos on way to winning a gold medal in the Commonwealth Youth, Junior and Senior Championships in India in 2015 while her gold-medal exploit at the SA Games in 2016 came with a much lesser effort as she had to lift only 149 kilos to confirm a top-of-the-podium finish.
Canada's Muade Charron won the gold in this event yesterday with a total lift of 220 kilos while Zoe Smith of England won the silver, lifting 207 kilos, and Mona Pretorius of South Africa settled for the bronze with a lift of 206 kilos.
Though Simanta and her Indian competitor for the fifth position lifted the same aggregate weight, the Bangladeshi was adjudged to have finished sixth due to her inferior ranking.
While Simanta was out of contention for medals, she was happy with her effort as she beamed even after failing in her attempt to lift 103 kilos in clean & jerk. She also got a decent round of applause from the crowd for that effort.
Meanwhile, swimmer Nazma Khatun finished second from last among 29 participants in the women's 50m butterfly event at the Optus Aquatic Centre. She finished fourth among five swimmers in her heat, with a timing of 32.96 seconds.
Bangladesh will start its most hopeful event, shooting today. Shooting is the only event that has produced medals in the past for Bangladesh.