Flagbearer Mabia uplifts Bangladesh's image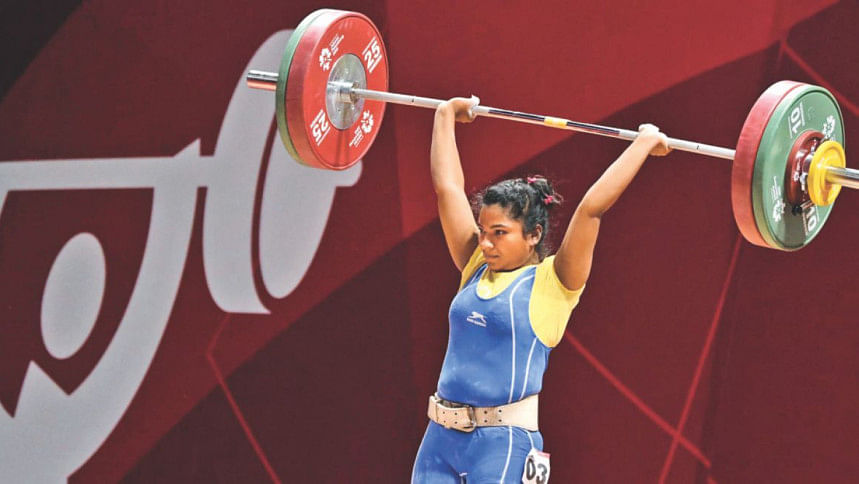 Bangladesh's most renowned weightlifter Mabia Aktar Simanta lived up to her reputation as she pulled off her national-record score at the women's 64-kg event at the 2022 Commonwealth Games in Birmingham earlier this week on Monday.
Mabia was featured on The Guardian, a leading newspaper in Britain, after scoring 181 to stand eighth among 12 participants. Already a well-established powerful symbol of female empowerment in her country, Bangladesh's flagbearer at the Games' opening ceremony was only six points shy of a fifth-place finish.   
"I want to see more girls come forward to do weightlifting, and one day I want to see athletes from Bangladesh get a chance to compete at the Olympics and win some medals," Mabia, the two-time South Asian Games gold medallist, told The Guardian.
The 22-year-old superstar has broken many barriers by venturing into a sport in a country not accustomed to seeing women weightlifters, and that too by coming from a rural area and having faced the struggles of financial hardships. Mabia did not shy away from acknowledging the support she received from the Bangladesh government and the relevant authorities back home.
"I don't feel gender is much of an issue for me anymore, I get equal support from the authorities. It's just about delivering the best results possible.
"The Bangladesh government is facilitating women in sport and making us feel empowered," mentioned the athlete, who won gold at the Bangabandhu 9th Bangladesh Games last year despite sustaining an injury on her left elbow.
"This extra interest in women coming forward means we're now working hand-in-hand with the gents."