Mabia ushers in second gold rush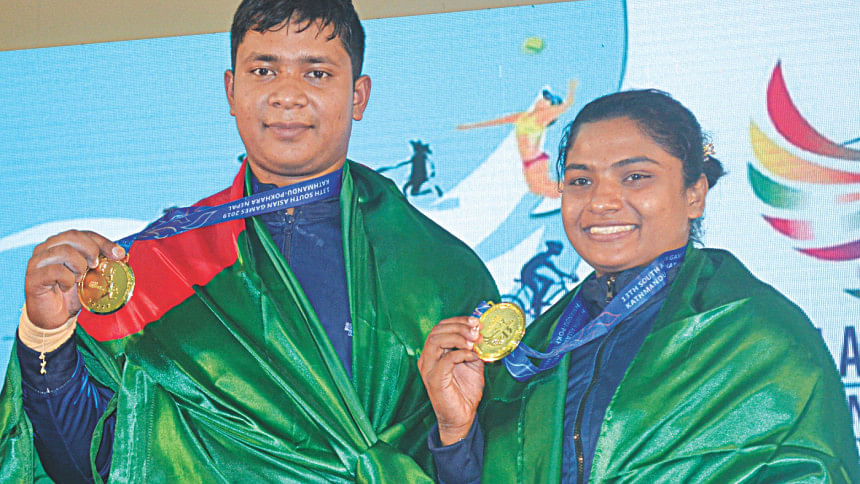 Mabia Akter Simanta ended Bangladesh's three-day gold-drought at the 13th South Asian Games yesterday before two more gold medals on the day turned it into Bangladesh's best day of the Games since Day 3.
The 2016-edition gold medalist lifted a total of 185 kilos in women's 76-kg category of weightlifting in Pokhara -- 80 kilos in snatch and 105 kilos in clean & jerk -- to beat Sri Lanka's BC Priyanthi by one kilo.
In doing so, Mabia became the first athlete from Bangladesh in this millennium to win gold medals in back-to-back SA Games.
The 20-year-old Bangladesh Ansar sportswoman was delighted to have won back-to-back gold medals, setting her personal best effort.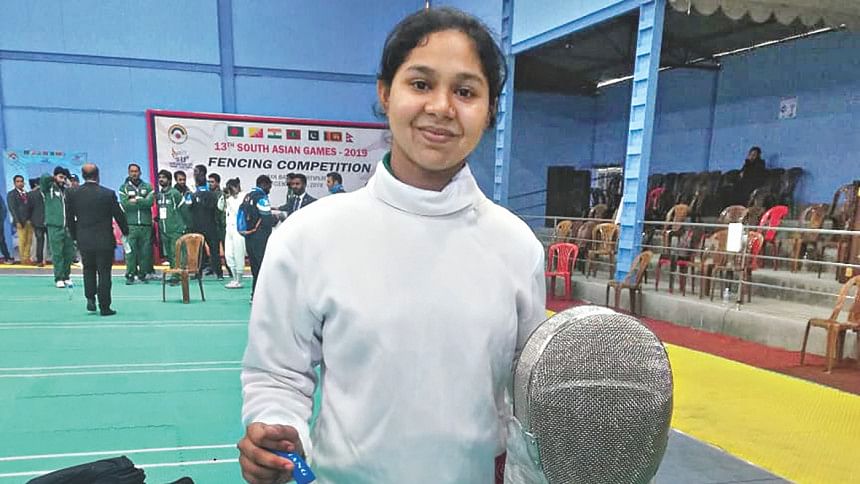 "We needed this gold. I am really happy that it came. It was difficult this time around as there were more competitors. There was more pressure on me as everyone expected me to win, unlike the last time when I was a rookie," said Mabia, who lifted three kilos less than her Sri Lankan counterpart in snatch before overtaking her by one kilo in clean & jerk.
Mabia had won her 2016 gold in Guwahati in 63-kg category. In three years, she has gained weight, which forced changes in her training methods and diet. She has also received rewards for her feat of 2016.
However, one thing that has not changed is practice facilities for weightlifters. They still train at a shabby gymnasium with poor equipment and poor amenities next to the National Sports Council. There is no foreign coach in this discipline and no opportunity to train abroad.
"If we can win gold in SA Games with four months' camp, we can do much better with long-term training," Mabia said, a sentiment echoed by Ziarul Islam, who won gold in men's 96-kg weight category a short while after Mabia's feat.
The Bangladesh Army athlete lifted a total of 262 kilos, comfortably beating a Nepali counterpart by 15 kilos.
The man from Dinajpur was elated for more reasons than one. "I'm happy. This is my first South Asian Games and also my first trip outside the country. I'm very excited and happy with my performance."
The twin gold medals followed by two silver medals and one bronze medal from the same discipline lifted the gloom over the Bangladesh contingent following three days without gold.
And things got better in Kathmandu, where fencer Fatema Mujib won gold in women's individual sabre event, beating her Nepali counterpart 15-10.
The 20-year-old from Habiganj, who like Ziarul won her first gold in her first appearance at SA Games, had dual reasons to celebrate. "It's my birthday. I didn't reveal it to anyone before. I thought I should reveal it once I win gold," Fatema said.
Rubel Mia won a bronze in fencing while there was a silver medal in mixed team shooting courtesy of Abdullahel Baki and Syeda Atkia Hasan. There were also two silver and one bronze medal in swimming while wrestling won Bangladesh one silver and one bronze medal. One bronze medal came from cycling.
At the end of the day, Bangladesh's total medal-count rose to 89 medals -- seven gold, 26 silver and 56 bronze medals -- Bangladesh's best-ever performance outside the country.
Things are expected to get even better when Bangladesh start their gold-hunt in archery in Pokhara today, where Bangladesh's archers made it to the final of all ten events.
Bangladesh will face Sri Lanka in five of those finals while they will face Bhutan in four and Nepal in one final -- today and tomorrow.
In the same city, Bangladesh women's cricket team will be the favourites when they take on Sri Lanka in the final today.