Shakib, Stokes exchange salutes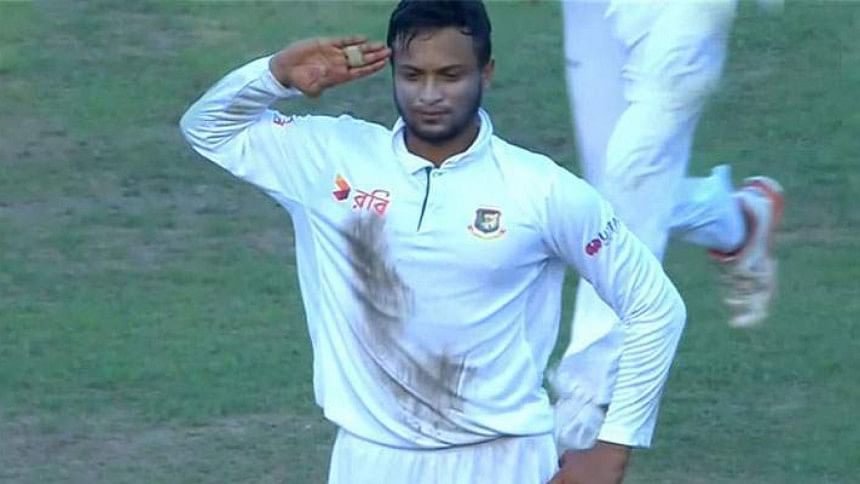 All-rounder Ben Stokes has been a thorn in Bangladesh's side throughout England's tour.

Whether it was through the brilliance of his performances with the bat and ball or by the use of his very animated vocabulary, Stokes consistently managed to get into the heads of the Tigers.

If it had been an underperforming player nipping at the Bangladesh players each time they made a mistake, then perhaps it would have been overlooked. However, when it is arguably the opposition's best player in the series, it is hard to keep a straight face.

Stokes has attracted much attention throughout the series, but they were mostly for the wrong reasons. From getting in a tangle with Tamim Iqbal during the ODI series and screaming at Taijul Islam to not handle the ball when he made an effort to give it to England's fielders to being fined 15 per cent of his match fee in his verbally charge at Sabbir Rahman, Stokes has certainly riled up the Tigers.

A reply was something that all the fans were awaiting. Not only through the Tiger's performances, but an actual gesture was something fans felt they needed. And they got that this morning through the player with the most swagger in the Bangladesh side, Shakib Al Hasan.

After breaching Stokes' defences and castling him, Shakib -- reminiscent of West Indian Marlon Samuels send-off for Stokes during a Test in April 2015 -- put his hands up to his head, saluting the England player on his way back to the pavilion.

It was certainly a gesture that got the fans roaring as the Sher-e-Bangla National Stadium joined in with their own jeers for Stokes and applause for Shakib.

However, Stokes took it all in his stride, thanking the Bangladesh fans and sending a salute Shakib's way after the match ended in a Facebook post.

"Thanks for having us Bangladesh been a brilliant Test/ODI series,salute to the security and the people and of course Shakib Al Hasan," Stokes wrote on his Facebook page.