Santos praises 'motivator' Ronaldo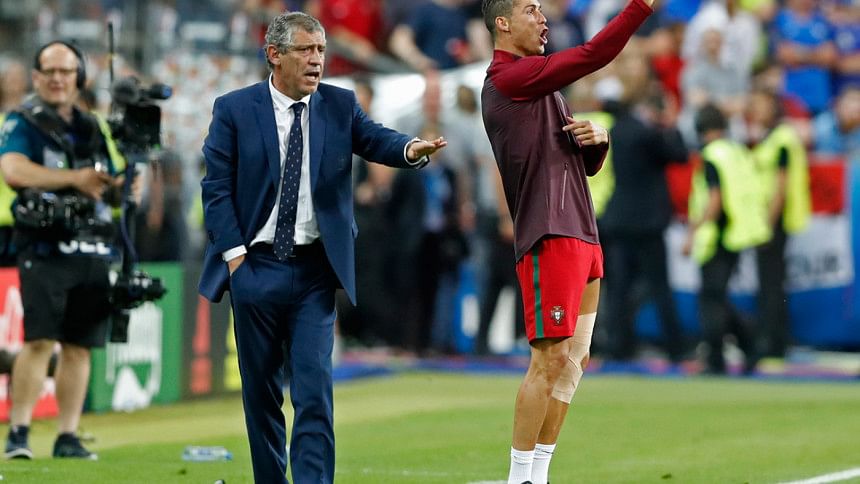 An emotional Fernando Santos praises Cristiano Ronaldo's motivational powers and says criticism of Pepe was unjustified after his team won the European Championship.
Emotional Portugal coach Fernando Santos praised Cristiano Ronaldo's motivational powers and said criticism of Pepe was unjustified after his team won the European Championship on Sunday.
Santos began his news conference by reading a speech he had delivered to the squad.
"We were as simple as doves and as wise as serpents," he finished by saying.
Santos, appointed after Portugal had lost their opening qualifier at home to Albania, is unbeaten in 14 competitive internationals in charge.
Portugal overcame France 1-0 on Sunday after extra-time despite losing talisman Cristiano Ronaldo to injury 25 minutes into the match following a tackle by Dimitri Payet.
"Our captain made a fantastic effort during this competition, he was criticised many times but he showed a fantastic team spirit," Santos told reporters
"Twice, he tried everything that was humanly possible to get back into the game but it wasn't possible," he added.
"His presence in the changing-room was really important thanks to the way in which he supported me and he said it was our day...he believed as much as I did that it was our day."
Santos added that the tackle on Ronaldo was "strange" and complained that the referee did not even give a foul.
The 61-year-old former Greece coach said he believed from the start that Portugal could win the competition, even while recognising that other teams had more natural ability.
"I've always told the players that we've got great talent but we need to fight more than our opponents, run more than them and concentrate more than them. We have an amazing group," he said.
"They've always believed what I told them, that we could win this."
"Sometimes the Portuguese don't believe in ourselves and I've seen that a lot but Portugal and the Portuguese are the best in the world."
Central defender Pepe, often cast as the pantomime villain after several unsavoury incidents in his career, was outstanding throughout the tournament.
"Pepe is a player with enormous passion, he gives everything during a game," Santos said.
"What is said about him is not really correct, I think he has picked up a reputation that he will struggle to get rid off but happily he is a champion of Europe."