Rosberg quickest in fiery practice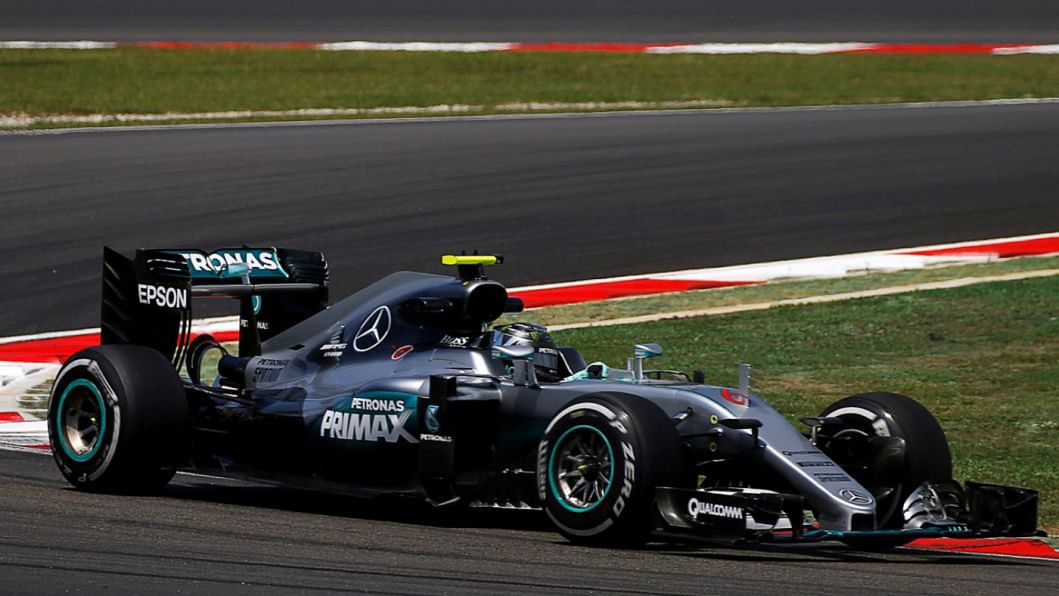 World championship leader Nico Rosberg struck the first blow of the Malaysian Grand Prix weekend with the fastest lap in free practice on Friday, almost half-a-second quicker than Lewis Hamilton.
But his Mercedes team-mate Hamilton, who lies eight points behind in the standings, will have been encouraged by his runs later in the session when he was marginally quicker than the German on used soft tyres, the quickest of the three compounds available.
On new rubber however Rosberg, who has been dominant in the last three races, was unbeatable, scorching round the 5.543km of the Sepang circuit in a best of 1min 35.227sec, 0.494sec ahead of Hamilton.
Neither driver had an error-free session. Hamilton had to endure a monster brake lock-up that flat-spotted his front left tyre at turn nine, and Rosberg slewed off into the gravel before recovering at turn 11.
Earlier, the 90-minute session had been halted in dramatic fashion when Kevin Magnussen's Renault burst into flames in the pit lane.
Magnussen, who had returned with smoke coming from his engine cover after just one lap, was forced to leap to safety when fire broke out outside the Renault garage.
Pit crew were quickly on the scene with extinguishers, but with fuel appearing to be leaking across hot engine parts, the fire reignited several times and the session was red-flagged after just 11 minutes.
The Danish driver was unhurt and the session got back under way after a 15-minute delay.
"Car's back in the garage, we're looking into it," tweeted the Renault team. "Obviously something didn't quite work there."
Birthday boy
When the session resumed the Ferraris of Kimi Raikkonen and last year's winner, Sebastian Vettel, were third and fourth quickest -- though they were both more than a second adrift of the Mercedes.
Vettel, who was just 0.016sec behind his team-mate, was reporting severe vibration from his brakes, and let his mechanics know all about it over team radio.
"I can't really see much, the vibrations are quite bad. I don't know how you can balance a set so badly," he complained.
Fernando Alonso, with an upgraded Honda engine package that means he will start from the back of the grid in Sunday's race, managed to push his McLaren in front of the Red Bulls to take fifth place in the timings, just 0.179sec behind Vettel.
His team-mate Jenson Button, who will become just the third driver in history to reach 300 grands prix this weekend, was not so happy back in 10th place.
Asked on team radio if he needed another lap near the end of the session he replied: "Don't know what I'm going to gain from it, so no."
Daniel Ricciardo edged out birthday boy Max Verstappen as the Red Bulls filled sixth and seventh places on the timesheets.
Verstappen blew out the candles in the team hospitality unit to celebrate his 19th birthday Friday, before zipping up his overalls and getting back to work.