Hamilton reigns in Silverstone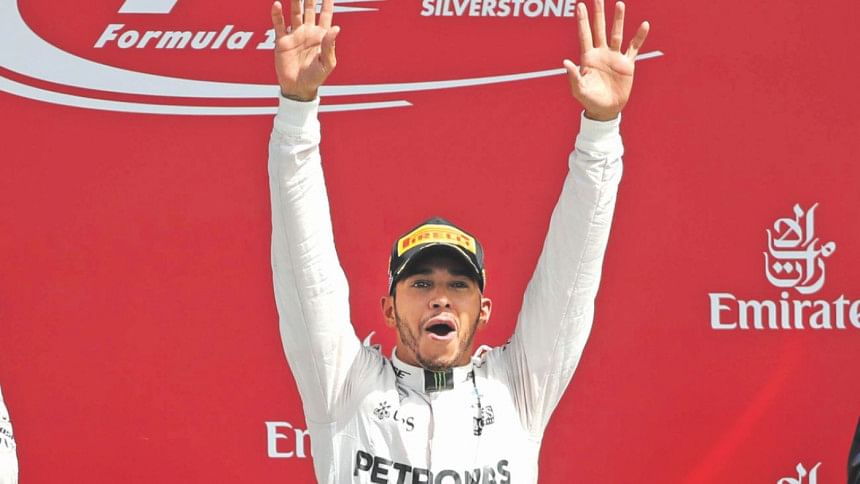 Lewis Hamilton completed a hattrick of home wins on Sunday when he triumphed ahead of Nico Rosberg in the British Grand Prix to cut his Mercedes team-mate's championship lead to just four points.
Defending three-time champion Hamilton reeled off his fourth win in five races as he steams up behind Rosberg in the title race, with the German also subject to a post-race inquiry into radio dialogue with the team when he had a gearbox problem.
Dutch teenager Max Verstappen finished third -- pushing Rosberg all the way -- ahead of his Red Bull team-mate Daniel Ricciardo, with Finn Kimi Raikkonen coming home fifth for Ferrari.
In a reversal of the scenes at Spielberg following last Sunday's Austrian Grand Prix, where Hamilton and Rosberg collided on the final lap, Rosberg was booed by fans during the podium ceremony at Silverstone.
"A great job and thank you so much guys for your efforts back at the factory," said Hamilton on his victory lap.
From the podium, he added: "We've got the best fans here so thank you so much... I am not sure you can be as happy as I am."
A downpour shortly before the race created some havoc and an immediate call for "full wet" tyres and a plodding safety car start.
Hamilton led the way for six laps before the real thing began, grumbling on lap four that "this safety car is just really slow."
On lap five, he made it more obvious: "We can go, Charlie!" he said, a message directed at the race director Charlie Whiting.
And so racing began on lap six, Hamilton throwing up a high plume of spray ahead of Rosberg as most of the rest -- bar the top four -- rushed to the pits for intermediate tyres.
In the pit lane, there were two near collisions before the race resumed and settled with Hamilton pulling 3.6 seconds clear by lap seven.
Both Mercedes men pitted for their intermediates on lap eight, ahead of the Red Bulls, as the Virtual Safety Car (VSC) was deployed when Pascal Wehrlein spun off at Abbey curve.
As the track improved, Verstappen and then Rosberg picked up the pace before Hamilton responded. By lap 12, he was 5.2 seconds clear with Rosberg 1.4 clear of Verstappen.