Hamilton dedicates win to the late Muhammad Ali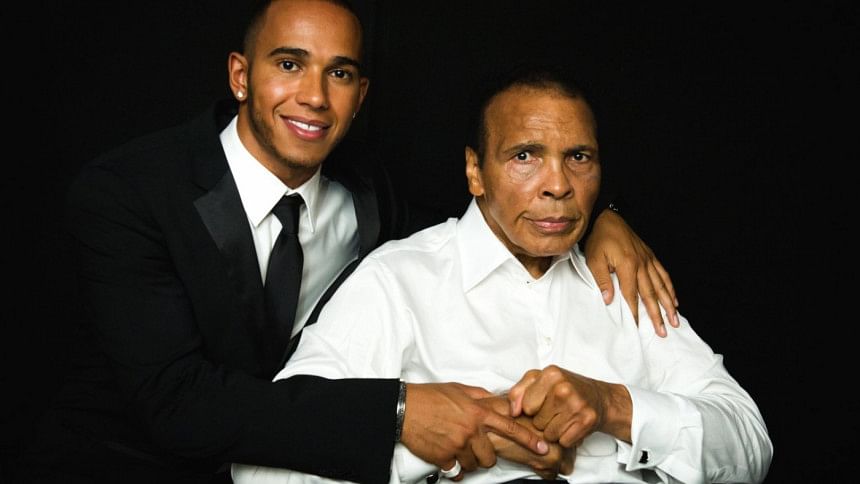 Lewis Hamilton dedicated his victory in the Canadian Grand Prix to the late Muhammad Ali.
The world champion referenced one of the former heavyweight champion's famous quotes on his slowing down lap saying: "Float like a butterfly; sting like a bee."
He added later: "Ali was someone who inspired me so much throughout my life.
"Obviously he passed away recently so I'd love to be able to dedicate this to him and his family."
Hamilton, who met Ali a few years ago, said: "The last 15 laps, for some reason all I could think of was him and Rumble in the Jungle. It was really, really weird.
"I was driving and I was just thinking of him, and thinking maybe he would be watching the race, I don't know. So, that's to him and his family. Rest in peace."
"He was just a unique, iconic individual who had a character unlike anyone else's and everyone aspired to be like him.
"I wish I could have spoken with the charisma that he would have, or the comedic side that he would have, that confidence that he could carry into a fight and outwit and outsmart his opponents.
"And then for the things that he stood for. Even more importantly politically, I think believing in who you are and not letting anyone dictate who you have to be.
"I think as a kid, when I saw that, I think I was like: 'This is the guy I want to be like'.
"Coming from a family of similar background in a sense of ethnicity, it was someone to look up to. Obviously in Formula 1 there was no one of the same colour as us as a family, so it was another athlete for me to look up."
The win, the 45th of Hamilton's career, cut his deficit to team-mate Nico Rosberg in the championship to just nine points.
That has come down from 43 points in just two races in Monaco and Canada, both of which Hamilton has won while Rosberg has hit trouble.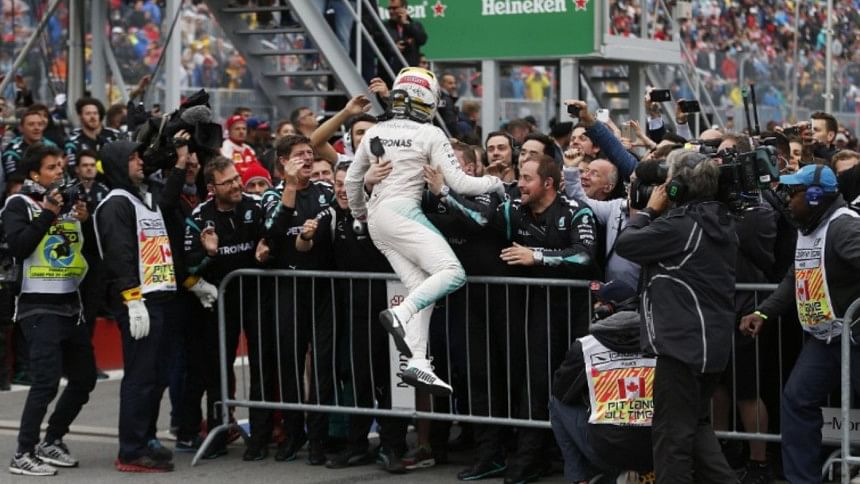 The German opened his large margin by winning the first four races of the season while Hamilton ran into a series of difficulties.
Hamilton said: "I'm really overwhelmed to think just how difficult this season was before these last two races and I feel incredibly grateful and very blessed to have had these two great weekends.
"I'm just going to keep working hard, as you can see I'm super-focused. For me I felt that today was one of my best races for a while, maybe not as good as the last one, but still really happy with it. Onwards and upwards hopefully."
Rosberg finished fifth, having to fight back after a collision with Hamilton as they disputed the first corner behind the fast-starting Ferrari of Sebastian Vettel left him ninth on the first lap.
Rosberg said he had been angered by the situation at the time, but later accepted that it had been tough but fair racing.
"I had to try, otherwise I accept I am behind," Rosberg said. "In Barcelona it worked, this time it did not work out. It was a hard manoeuvre from him but racing and I need to do a better job next time."
He added: "That's racing in the end and it's my job to make sure I'm in front after a battle like that next time.
"It was very costly for me because I lost a lot of places and from then it was an uphill battle trying to fight back."