The Greatest, one and only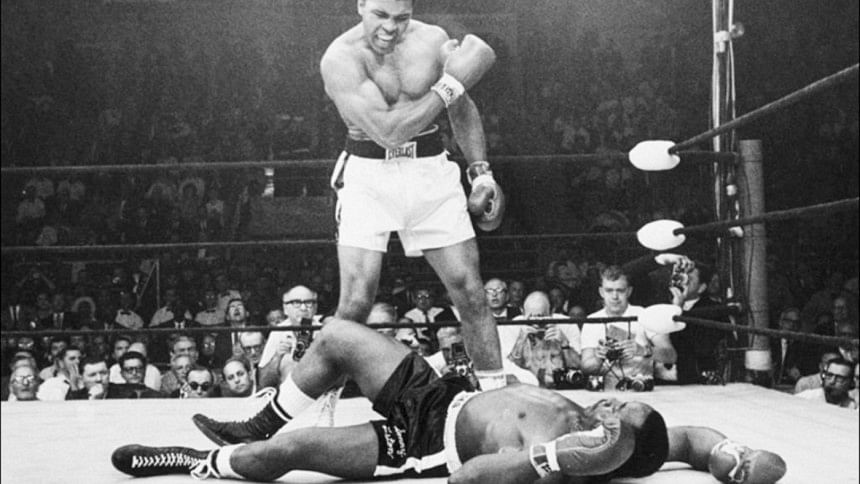 Writers around the world fiddled with many words over half a century to define the aura that Muhammad Ali exuded. But eventually they all had to settle for The Greatest, the title with which Ali famously introduced himself after knocking out a fearsome Sonny Liston to become the world heavyweight champion some 52 years ago.
With his rival lying literally lifeless in the ring, the 22-year-old went on to proclaim in front of a stunned Miami crowd: "I am the greatest! I am the greatest! I'm the king of the world." True to his words, Ali transformed himself into a larger-than-life character, who made us laugh, awed us, inspired us and motivated us. Till his death yesterday, the king of the world spent a lifetime living up to the billing.  But the legacy of the silver-tongued boxer and civil rights champion will never be forgotten.
The three times world heavyweight champion was a fighter from beginning to end. As a boxer he had it all in him-- he was fast, strong and precise. He used to talk and box, a tactic that the world had never experienced before. He goaded his rivals into attacking him, then leaned back into the ropes in a defensive stance and waited for opponents to tire. "I'm going to float like a butterfly, sting like a bee. His hands can't hit what his eyes can't see." The taunting invariably worked in his favour in many of his bouts. His opponents were routinely puzzled as their forays of punches and jabs missed the dancing butterfly in the ring. And finally when the moment came, the defensive boxer quickly went for the kill with a flurry of attack punches. Out of 61 fights, Ali lost only 5; and 37 of the 56 wins came through knock-outs. This typical Ali tactic has been copied by many other champions since.  
His fights against other men became sights to behold, but he embodied much greater battles that made him the greatest sports personality of the 20th century. Ali was a pariah and an anti-establishment showman who stood for racial and religious equality and for social causes even more than a fight in the ring. He never hesitated to give up virtually everything – his career, his title, most of his income – to stand up for what he believed in. He rooted firmly against any injustice he encountered to become the face, the voice, the very heart of the oppressed. And that extraordinary human quality made him The Greatest.
Born Cassius Marcellus Clay in 1942 in Louisville, Kentucky, to middle-class parents, Ali began boxing when he was only 12. Ali became a light heavyweight champion in the 1960 Olympics in Rome, but he, reportedly, threw the gold medal into a river when he was refused services at a soda fountain counter because of his race.
A year before he won the heavyweight title in 1964, Ali converted to Islam and got rid of his slave name Cassius Clay. The next year, the young heavyweight champion refused to serve in the Vietnam War after being drafted to the American army. At an army recruiting station, he stood stone-faced and refused to step forward when his name was called. The consequence was fast and furious. He was stripped of his boxing title, convicted of draft evasion and sentenced to five years in prison. But he remained unmoved. Out on bail, he started to wage another fight, speaking against war.
"My conscience won't let me go shoot my brother, or some darker people, some poor, hungry people in the mud, for big powerful America, and shoot them for what?" Ali said then. "They never called me nigger. They never lynched me. They didn't put no dogs on me."
"My enemy is the white people, not Vietcongs or Chinese or Japanese," Ali told one white student who challenged his draft avoidance. "You my opposer when I want freedom. You my opposer when I want justice. You my opposer when I want equality. You won't even stand up for me in America for my religious beliefs and you want me to go somewhere and fight but you won't even stand up for me here at home."
His relentless speeches shaped America's public perception of war. Still, it took four years for Ali to get acquitted by the American Supreme Court in 1971. He was allowed to get back into the ring, where he won some epic battles in the history of boxing that included Ali-Joe Frazier trilogy.
Ali bade farewell to boxing in 1980 but continued to fight for the rights of people across the globe. He was diagnosed with Parkinson's disease 34 years ago. His health gradually declined but his commitment to what he believed in remained undaunted. He devoted himself to humanitarian causes, travelling to Lebanon in 1985 and Iraq in 1990 to seek the release of American hostages. His arm was shaking when he lit the Olympic flame in Atlanta in 1996, but that too did not stop him from upholding the spirit of the Games.
Even a few months ago, when he was in a very critical state, Ali could not help but express his concern over the pledge of America's highly controversial presidential hopeful Donald Trump to ban Muslims from entering the United States.
"We as Muslims have to stand up to those who use Islam to advance their own personal agenda," he said.
That's precisely why Muhammad Ali is more than great. The Greatest he was.   
The writer is Deputy Executive Editor, The Daily Star.