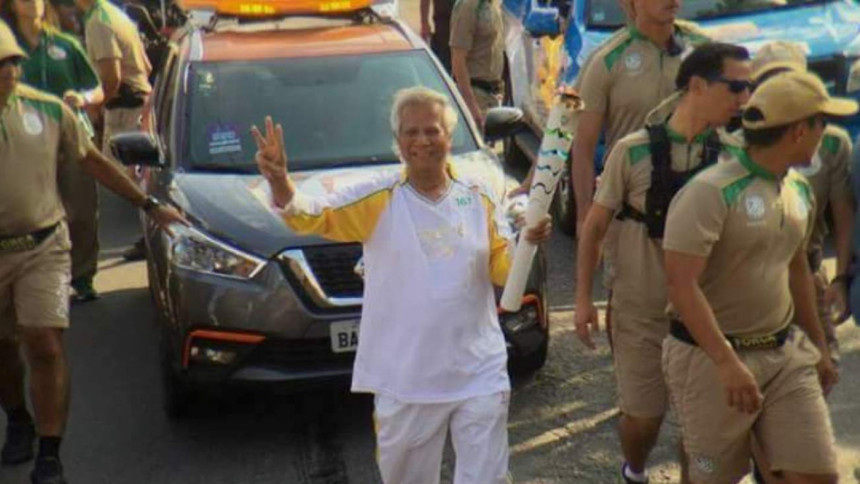 Nobel Peace Laureate Professor Muhammad Yunus has taken the Olympic Torch as it makes the epic journey across Rio de Janeiro to light the cauldron of the Rio Games 2016.
As the torch relay moved out into Campo Grande, one of Rio's underprivileged western suburbs, one of the most unexpected torchbearers made an appearance: Muhammad Yunus, the Bangladeshi pioneer of microfinance who was awarded the Nobel Peace Prize in 2006.
Microfinance has made a major contribution to the development of the Brazilian economy in recent years, especially in poorer areas such as Campo Grande, reports the official website of Rio Olympics.
Muhammad Yunus was chosen by Thomas Bach, president of the International Olympic Committee (IOC), to join the mission of spreading the spirit of the Rio 2016 Olympic Games throughout the world.
The Rio Olympic Torch relay began with the traditional Olympic flame lighting ceremony in the Greek city of Olympia, birthplace of the ancient Games, on April 21, 2016.
In Brazil, the Rio 2016 Olympic Torch Relay started in the country's capital Brasilia on May 3. After traversing more than three hundred cities throughout the country – with 12,000 athletes carrying the torch over 12,500 miles -- the torch relay will end on August 5 during the opening ceremony at the Maracana Stadium.