USA race alone to relay final spot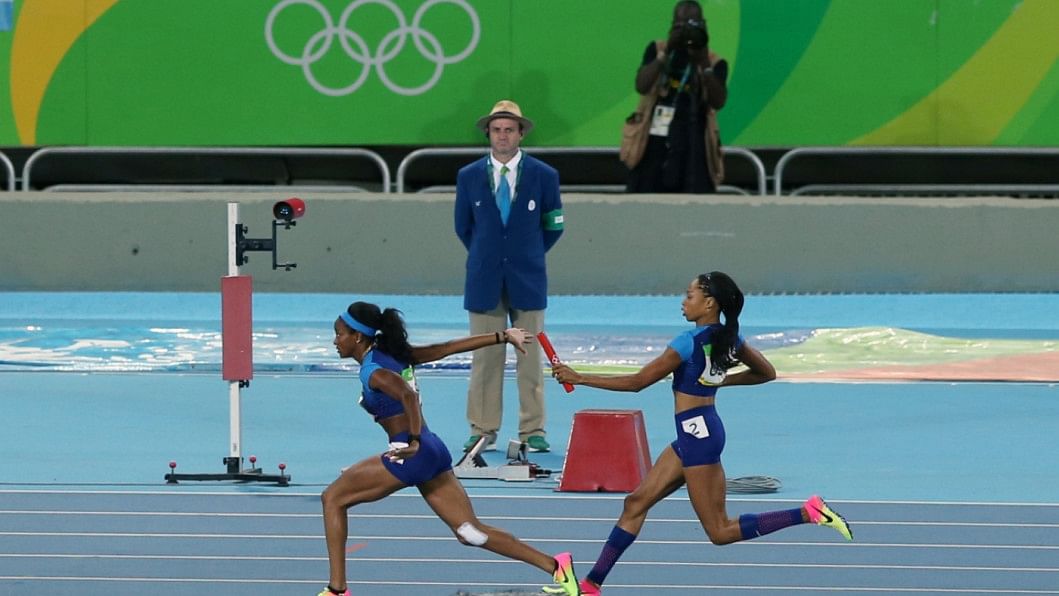 The United States grasped their second chance to reach the Olympic women's 4x100 metres final with both hands on Thursday, racing alone around the Rio track in 41.77 seconds to knock China out of the last eight.
The reigning champions appealed against the result of their morning heat, in which Allyson Felix bungled the second baton exchange, arguing that the four-times Olympic gold medallist had been bumped by a Brazilian athlete before the handover.
The appeal was upheld and the Americans were given a target of beating 42.70 seconds to qualify for the final in place of China, who were the slowest of the original finalists.
The time was easily within the capability of the world record holders and Tianna Bartoletta, Felix, English Gardner and Morolake Akinosun ensured there would be no mistake with the second fastest time of the year.
The Chinese, who had unsuccessfully appealed against the success of the American appeal, will have grounds for feeling hard done by after only being placed eighth behind the Canadians by six thousandths of a second.
The United States will join arch-rivals Jamaica, Britain, Germany, Ukraine, Nigeria, Trinidad and Tobago and Canada in Friday's final.
The most likely beneficiaries of the absence of the Americans would have been the Jamaicans, in particular Elaine Thompson.
Shelly-Ann Fraser-Pryce had anchored them to victory in the first heat in 41.79, opening the door for Thompson to sweep the sprint medals at the Rio Olympics.
Thompson won the 200 metres on Wednesday to add to the 100 title she took from Fraser-Pryce earlier in the week and allowing her a shot at matching Usain Bolt's feat at the last two Olympics.
"We are putting things together well but we'll have to change a few things for the final," said Jamaica's Veronica Campbell-Brown.
"There will be some changes that you will see tomorrow, Elaine will definitely be on."
The Jamaicans needed Fraser-Pryce's blistering finish to hold off Britain who were third-fastest in 41.93, ahead of Germany, who won the second heat in 42.18 once the Americans had dropped out of contention.
Slow motion TV replays clearly showed Brazilian Franciela Krasucki bumping Felix just before she attempted to hand over the baton to English Gardner.
"I think I got propelled at about 20 miles an hour," Felix told reporters.
"When a foreign object comes in front of you, it's going to mess up the momentum and the handover."