Rio Olympics: IOC official, swimmers arrested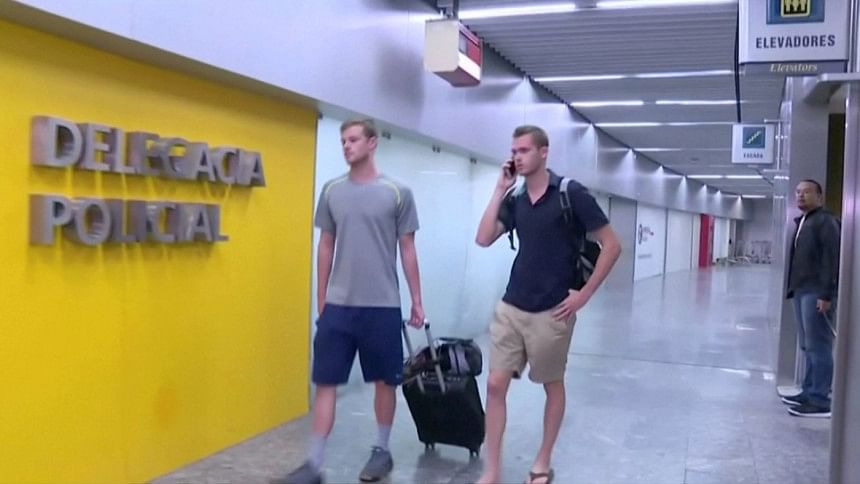 Brazilian police arrested two US swimmers and a top International Olympic Committee official as scandal overshadowed the Rio Games.
Jack Conger and Gunnar Bentz were taken off a flight leaving Rio de Janeiro by authorities investigating doubts over their claim to have been mugged.
That came hours after top European Olympic official Patrick Hickey was arrested in an investigation into black market Olympic ticket sales.
Conger and Bentz along with star US swimmer Ryan Lochte and squad member James Feigen said they were held up at gunpoint in the early hours of Sunday.
However Brazilian judge Keyla Blank ordered the passports of all four to be seized to prevent them leaving the country. Lochte had already gone home.
The Globo media organization posted a video online showing Conger and Bentz walking into a police station on Wednesday.
The G1 news site, which is part of Globo, reported that Bentz, 20, and Conger, 21, were detained for questioning and that Feigen, 26, was still in the country.
The four made headlines with their terrifying account while returning from a party.
Lochte says that the four were held up by muggers posing as police as they left a party just after 4:00am.
Lochte gave interviews describing how he had a hand gun put to his head and handed over his money and wallet.
Victims laughed
However, US television channel NBC quoted witnesses as saying the swimmers were at the party until daybreak.
Britain's Daily Mail obtained video surveillance showing the four laughing when they returned to the athletes' village at 6.56am on Sunday.
The judge said their story was full of inconsistencies.
Hickey, an IOC executive member, head of the European Olympic Committees and the Irish national committee, spent Wednesday night in hospital after being detained at his luxury hotel.
Accused of ticket scalping, ambush marketing and conspiracy after tickets were seized from another Irish businessman, Hickey "temporarily" stood down from his posts.
Following a raid similar to the arrest of seven top FIFA officials at a Zurich hotel last year, Hickey was shown in media video answering his hotel room door with no clothes before putting on a bath robe.
Police said they suspect he had changed rooms to try to evade arrest.
Hickey's wife was in another room and at first told them Hickey had left the country, police told reporters.
Brazilian police have launched a widening investigation after seizing more than 1,000 premier tickets for Games events, including the opening ceremony.
Tickets with a face value of about $1,000 dollars were sold for $8,000. According to prosecutors profits of $3 million were made.
The head of a sports ticketing firm, THG Sports, was detained with the tickets on August 5.
Hickey's son once worked for THG, but the sports powerbroker denied any wrongdoing in an interview with Irish television last week as the scandal mounted.