Bolt advances, Gatlin crumbles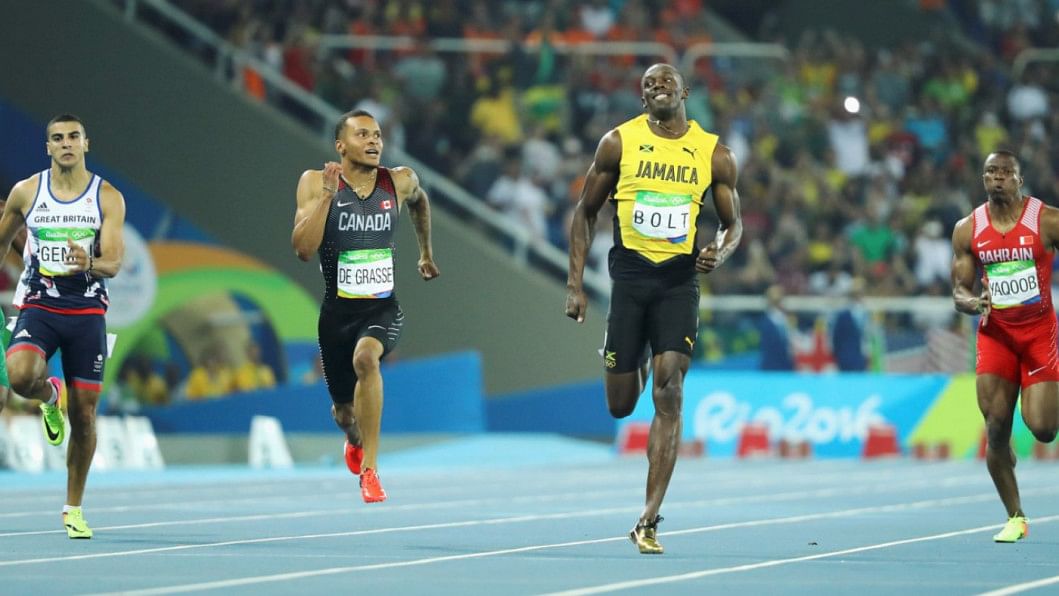 Usain Bolt will race the 200m final on Thursday after comfortably winning his semi-final, but there was no place for American rival Justin Gatlin as he failed to qualify.
Gatlin, who has served two doping bans, tied up late in his semi-final, blaming a stiff ankle as he finished third in 20.13sec to miss out on one of the eight final berths.
It was a different story for Bolt, however, who clocked a season's best of 19.78sec in the next step on his quest for an unprecedented sprint "triple triple".
"I wasn't fully surprised," Bolt said of Gatlin's elimination.
"I thought he would have made it. But I could tell in the 100m he was feeling the pain and he was slowing down.
"It's just the fact you're getting old. To double at a championship where the young guys are stepping up is really hard."
Gatlin, who won 100m silver behind Bolt at the weekend, explained that he had not fully recovered from rolling his right ankle in late November.
"It's been flaring up this season. Tonight it got really stiff on me in the warm-up area and I wasn't able to properly warm up where I needed to warm up at," he said.
"Having that lane three coming off the turn, I felt pain in the last 20 metres, I looked over and tried to hold on and do the best I could.
"I'm just glad I was able to walk off the track without a real harmful injury and be able to rest myself, get the treatment I need for my ankle and come out here and help my teammates in the 4x100m relay."
The towering Bolt eased up a full 40 metres from the line in his semi, to advance along with Canadian Andre De Grasse, setting a national record of 19.80sec as the second automatic qualifier.
"It means I'm definitely on the right track," Bolt said.
"I felt energetic and everything was going smooth. Hopefully I'll get a top lane tomorrow," he said, adding his preference would be lane six or seven where the bend is not perceived to be too sharp.
"It's always better for me because I'm taller."
World record a possibility
Bolt added that he felt his own world record of 19.19sec, set when winning the 2009 world title in Berlin, could be under threat.
"I definitely think I can try for the world record, I definitely feel that," he said.
"But it's all about executing right, running the corner efficiently, then coming into the straight and just running the perfect race.
"I don't get over-confident, I'll come out and execute."
Bolt joked that De Grasse pushing him through to the finish line was "really unnecessary".
"I don't know what he was trying to do. I told him to ease up but he wanted to run to the end. He had something to prove I guess.
"But he's a young kid and he's great and he's got a lot of talent so I'm looking forward to a great talent in the finals," he said.
Bolt won a third successive 100m title on Sunday to set up his bid to repeat his haul of three gold medals in the 100, 200 and 4x100m relay at both the Beijing and London Olympics in 2008 and 2012 respectively.
Gatlin looked uncomfortable throughout his race.
The US challenge will now fall to Lashawn Merritt, the 400m specialist who clocked 19.94sec to win his heat ahead of France's Christophe Lemaitre.
Gatlin added, however, that his Olympic days might not be over, citing the in-form 40-year-old sprinter Kim Collins with one eye on the Tokyo Games in four years' time.
"There are a lot of athletes who only make it to one Olympics," he said.
"I've been to three in the span of 12 years. It's been an honour to come out here. Someone like Kim Collins give me inspiration for Tokyo!"
Also qualifying for the final are Panama's Alonso Edward, Briton Adam Gemeili, Azerbai-born Turk Ramil Guliyev and European champion Churandy Martina of the Netherlands.