Bolt moves closer to the 'triple triple'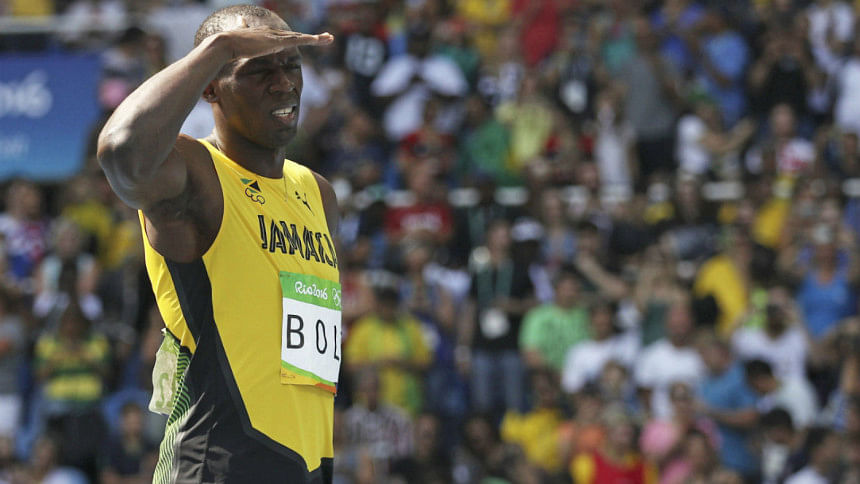 Usain Bolt roused a quiet morning at the Olympic stadium as only he can on Tuesday, remaining firmly on course for his historic 'triple triple' by coasting through the 200 metres heats in 20.28 seconds.
Racing in the ninth heat and cheered every step of the way by the sparse but vocal crowd, the Jamaican led coming off the bend and was able to take his foot off the gas to progress comfortably to Wednesday's semi-finals.
Bolt secured the 100 metres title on Sunday to take another step on the path to an unprecedented third successive sweep of all three Olympic sprint titles -- 100, 200 and 4x100 metres.
The Jamaican considers the 200 his specialist event and has promised to mount a Rio assault on his 1999 world record of 19.19, but that will have to wait for the final.
"I've recovered but I'm a bit tired," Bolt told reporters.
"I'm not really a morning person, I just came out here to qualify and that's what I did. I get nervous because it's my favourite event and I don't want to lose. I'll be much better tomorrow."
The man most likely to beat him, Justin Gatlin, also had no problems getting through, even if he coasted through the final 20 metres to win his heat in a relatively pedestrian 20.42.
The American said he had already moved on from the disappointment of being beaten once again at a major championship by Bolt after winning silver in the 100.
"I'm been motivated since the day I got here and I'll be motivated until that last shot across the line," said the 34-year-old.
"I'm in a whole different event now, I have to take my 100 metres hat off and concentrate on the 200. It's not even about time at this stage, it's about execution."
His compatriot LaShawn Merritt is the fastest man this year over the half-lap and he showed no signs of fatigue from winning a bronze medal in the 400 metres on Sunday, a strong finish carrying him to victory in heat eight in 20.15.
Canada's Andre de Gasse, bronze medallist in the 100, ran the quickest time of the session, clocking 20.09 to cross first in the final heat.
Bolt's compatriot Yohan Blake, who finished fourth in the 100 on Sunday, was third on the timesheets, easing up over the last 10 metres to finish in 20.13.
"I'm really feeling comfortable," said Blake. "My chances are really good, I been training really hard and I'm feeling more speed and strength."
American Ameer Webb had to sweat it out to qualify on time after finishing third in the same heat, which was won by Bruno Hortelano in a Spanish record time of 20.12, but his 20.31 ultimately proved quick enough to keep him in the competition.