Fabulous four for Biles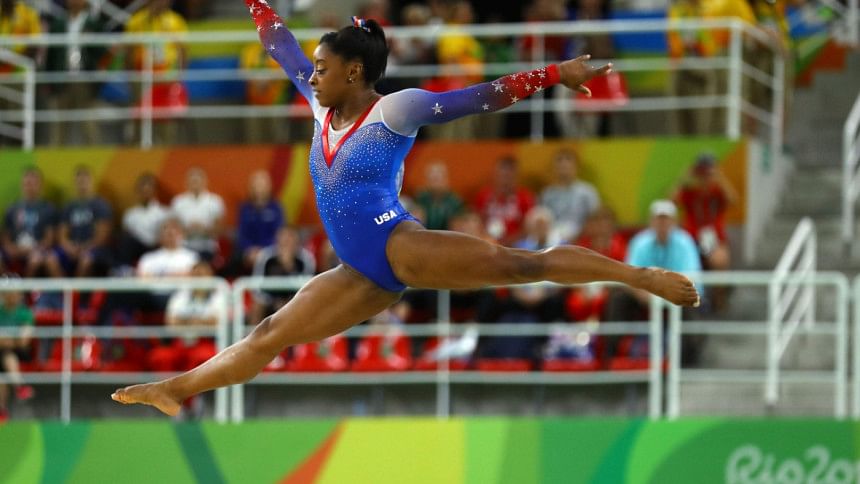 Simone Biles bowed out of her fabulous Olympic debut in Rio with a record-equalling fourth gold, short of the record five she sought, but with her name in lights among the gymnastics greats.
"It's been a long journey, but I've enjoyed every moment," said the Texan whose early life struggles had not set her out as the future face of women's gymnastics.
The 19-year-old took gold on floor on Tuesday ahead of US teammate Amy Raisman, muscles flexed and with the steely determination she had shown on her way to the team, all-around and vault titles.
The only blip standing between her and history, a slip on the beam on the penultimate day of competition, which gave her bronze.
She is the fifth woman to win four gold at the same Games after Hungarian Agnes Keleti (1956), Soviet Larissa Latynina (1956), Czech Vera Caslavska (1968) and Romanian Ecaterina Szabo (1984).
But Biles remains unfazed.
"To walk away from your first Olympics with five medals and four in gold, how can you be disappointed," she said. "It's exciting it's over, but kind of sad too."
Biles missed London 2012 because she was too young to compete but has dominated gymnastics in the four-year cycle since.
Her long-time coach Aimee Boorman believes the sport will never be the same after the Biles whirlwind.
"Right now I would say she's the greatest gymnast," said Boorman, who has coached Biles since she was six years old.
"She has really raised the bar. But then four years ago nobody thought they would see a Simone Biles."
Her epic Olympic adventure has seen Biles photographed alongside Jamaican sprint star Usain Bolt and US swimming greats Michael Phelps and Katie Ledecky.