Rio Olympics: 'Good v Evil' again as Bolt, Gatlin ready for duel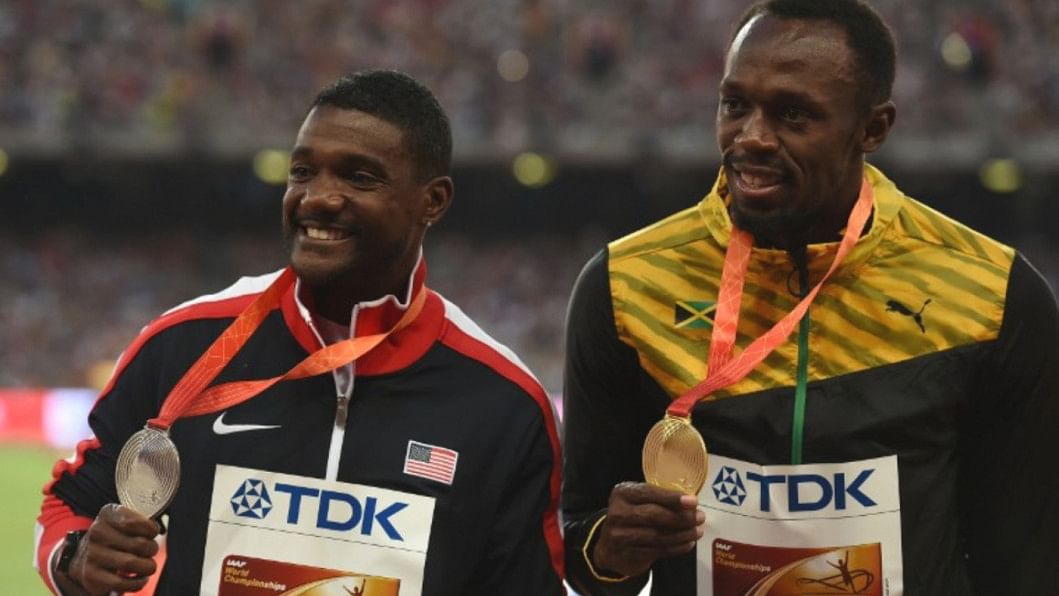 The battle to be crowned world's fastest man takes centre stage at the Rio Olympics on Sunday with Usain Bolt facing another showdown with Justin Gatlin where the image of athletics will be on the line.
Twelve months ago, when Bolt vanquished Gatlin in the World Championship 100m final, many suggested the Jamaican sprint king had "saved" his sport from a bruising reputational body blow.
The prospect of 2004 Olympic champion Gatlin -- twice found guilty of doping during his career -- was too much to stomach for many in athletics.
Yet the notion that Bolt's victory in Beijing had set track and field on a road to redemption turned out to be woefully premature.
In the 12 months since, athletics has been left reeling by a corruption scandal involving top-level administrators and revelations over Russian doping that plunged the sport into the worst crisis in its history.
It means that Sunday's 100m final at Rio de Janeiro's Olympic Stadium, set for 10.25pm local time (0125 GMT Monday) will inevitably once more be framed as a battle of "good versus evil" -- Bolt vs Gatlin.
In a global audience of hundreds of millions, many fans, including International Association of Athletics Federations chief Sebastian Coe, may be tempted to watch through their fingers.
Gatlin, 34, wearily rejects a narrative he sees as unfair, adamant that his story is far more nuanced than the bald, oft-applied label -- "two-time dope cheat" -- implies.
His first doping suspension in 2001 arose from the use of a drug to treat attention deficit disorder that he had been prescribed since childhood.
The US panel hearing that case found he "was certainly not a doper."
A second positive in 2006 -- for excessive levels of testosterone -- was more problematic.
Gatlin blamed the results on sabotage by a therapist but was banned for eight years, later reduced to four on appeal.
Hurt by 'villain' tag
"It's hurtful, it's hurtful to be looked at as a villain because that's not how I portray myself, that's not how my son portrays me or my family," said Gatlin, who booked his ticket to Rio with the fastest 100m time in the world this year last month, 9.80sec.
Gatlin may find it hard to escape the opprobrium, however, if he defeats Bolt on Sunday to deny a fairytale swansong for the sport's greatest showman.
Bolt is aiming to sign off a majestic Olympic career by successfully defending his triple crown of 100m, 200m and 4x100m titles for a third straight Olympics.
The 29-year-old has endured a frustrating season, repeatedly bothered by a hamstring problem that has required extensive treatment and forced him to cut short his appearance at Jamaica's trials in Kingston in July.
However he appeared in relaxed mood on Monday at his first press conference since arriving in Brazil, shimmying with scantily-clad samba dancers and wise-cracking with journalists.
Even when asked about his sport's year of shame, which culminated with Russia barred from the Olympics, Bolt was upbeat.
"For me, I think we're going in the right direction, I must say," Bolt said. "We're weeding out the bad ones," he added, stating he was unconcerned by the prospect of lining up against opponents who are not clean.
"In life, nothing is guaranteed. But for me going out there, I never worry about it," said Bolt, who has a knack of raising his game when titles are at stake.
"As a young kid, you grow up looking forward to the big Games," he said. "Championships are what matters. This is what I do, I enjoy doing it."
The likeliest challenge to Bolt and Gatlin could come from the next generation of sprinters led by Trayvon Bromell of the United States and France's Jimmy Vicaut.
Bromell, 21, has the world's second fastest 100m time this year (9.84) whie Vicaut, 24, has the third fastest (9.86).