Bolt eases to victory
Harrison breaks 28-year-old 100m hurdles WR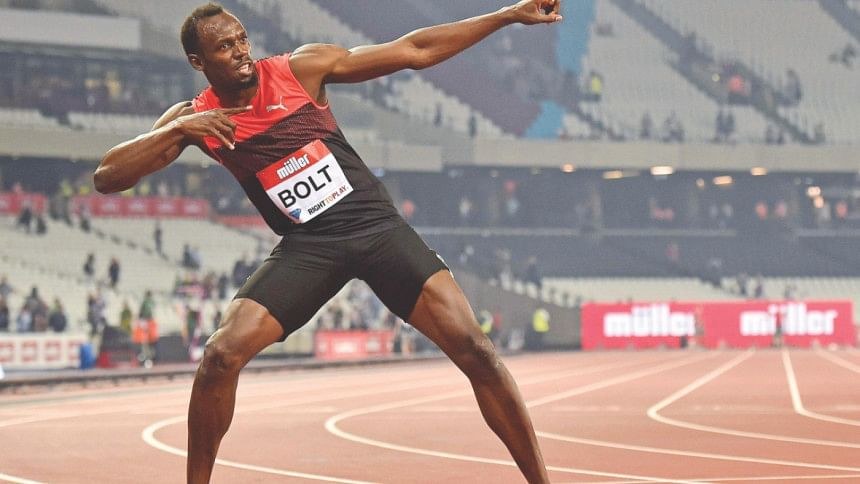 Jamaican sprint legend Usain Bolt promised on Friday he will be physically ready for next month's Rio Olympics -- on the night Kendra Harrison broke the 28-year-old 100 metres hurdles world record.
Bolt, running at the track where he achieved the individual Olympic sprint double and the 4x100m relay for the second time four years ago in London, was the star attraction on day one of the Anniversary Games in front of 40,000 people at the Olympic stadium and he did not disappoint in the men's 200m.
Brushing aside any concerns about the hamstring injury which forced him to withdraw from his country's Olympic trials in Kingston earlier this month, Bolt ran a solid time of 19.89sec in his first competitive 200m of this season.
Panama's Alonso Edward ran a season's best of 20.04sec while Britain's Adam Gemili produced a 2016 best of 20.07sec.
Bolt, who remains undefeated in this stadium in East London, is confident he can iron out any glitches with his cornering in his favourite discipline.
"I'm getting there. I am not fully in shape," said the 29-year-old.
"I need more work, but over time I will get there. I thought the cornering wasn't perfect. But I am feeling good.
"At least I came here, ran the race and had no injuries. I am ready to defend my Olympic titles. The main thing is I am injury free. I always love competing here. It's always a great fun at this stadium."
For once, though, Bolt was not the best athletics performance of the night. That went instead to an American who, incredibly, will not be running in Rio.
Harrison has not been selected for the US Olympic team but she showed the selectors what they will be missing by lowering the 100m hurdles world record.
The mark of 12.21sec ran by Bulgarian Yordanka Donkova has stood since 1988 but Harrison went 0.01sec under that to earn himself a Diamond League bonus of $50,000.
"Not making the Olympic Games was upsetting," said Harrison.
"So, I wanted to come out here and show the world I still had it in me. I came out here with vengeance to show what I could do."
In that race, British runner Tiffany Porter (12.70sec) and Jessica Ennis-Hill (13.04sec) were sixth and eighth respectively.
For the London 2012 heptathlon champion Ennis-Hill, this was ideal preparation ahead of the heptathlon competition.
The newly-laid track in Stratford is clearly very quick.
It contributed to plenty of fast times across the 10th Diamond League meeting of the season -- as well as two significant record-breaking moments for the British team.
Scottish runner Laura Muir produced a gutsy, determined run in the women's 1500m. Her mark of 3:57.49 broke Kelly Holmes's national record by 0.41sec.
"I knew I was in really good shape but I wanted to do it justice. I didn't want to hang back," she said.
In the pole vault, the Olympic champion Renaud Lavillenie was the comfortable winner, his mark of 5.90m being 7cm clear of American Sam Kendricks.
In the absence of Bolt, who focused on the 200m instead, the men's 100m went to the Frenchman Jimmy Vicaut.
At 10.02sec, it was not exactly a quick time - to put it into some context, it would have placed him ninth at the 2015 world championships final.
The night's action kicked off in style with Britain's 4x100m relay runners breaking their own national record.
The quartet of Asha Philip, Desiree Henry, Daryl Neita and Dina Asher-Smith smashed the competition with an outstanding demonstration of speed.
Their time of 41.81sec was the fastest in 2016 and it showed that they will be serious contenders for a relay medal in Rio.
Brazil were second in 42.59secs France were third in 42.84sec. Holland, winners of the European title earlier this month in Amsterdam, bungled up the changeovers and did not finish the race.