Kiwis thru to semis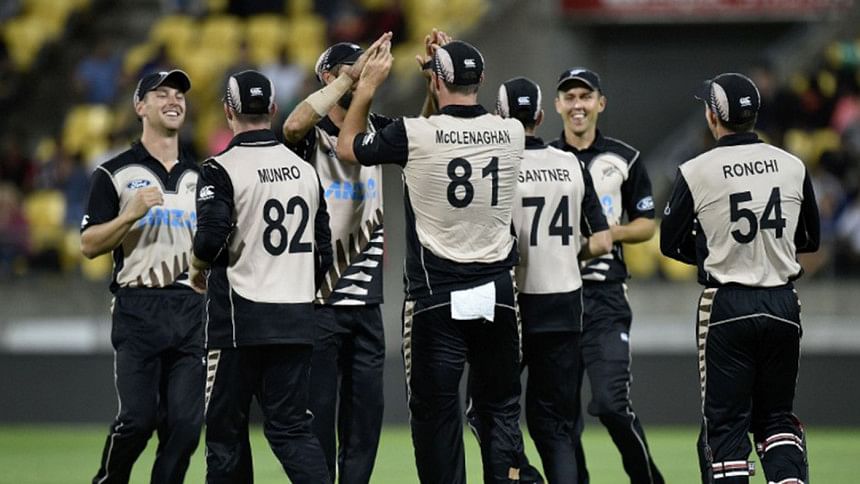 New Zealand have qualified for the semis after they thumped Pakistan by 22 runs in the Super Ten match of ICC WT20 2016 at Mohali under the lights.
The Kiwi bowlers denied Pakistani batters boundaries late in the innings, and kept up the pressure from both ends. They didn't allow Pakistan to register a substantial partnership after stopping the first at 65.
New Zealand v Pakistan
Pakistan:

158/5 (20/20 over)
New Zealand: 180/5 (20/20 overs)
Milne took two wickets for 26 in four overs while Santner captured two for 29. New Zealand weren't sensational with the ball, but were good in the field and field placements and stuck to the basics.
Pakistan failed to find the boundary in the last 5.1 overs, symbolic of their struggles. Sharjeel was the highest scorer with 47 from 25 at the top.
Pakistan lost their fifth wicket in the 18th over, and the 181-run target looked a bridge too far for the Asian side.
Milne removed Umar Akmal when the batsman lobbed his shot into the hands of long-on. Umar managed 24 from 26 but failed to up the ante when needed.
Pakistan were rocked in the 16th over when their skipper was sent back by Ish Sodhi. Afridi made 19 from nine with two fours and a six. Anderson took a stunner at long-off to see the back of Boom Boom.
Kiwis calling all the shots…
New Zealand removed Pakistan opener Shehzad in the 13th over, as Santner picked up his first scalp of the match. Shehzad made 30 from 32 before he flicked-pulled a short ball to deep mid-wicket.
New Zealand got their second breakthrough in the ninth over as Pakistan batsman Latif fell to pressure more than anything.
Latif shimmied down the track, failed to get anywhere close to the pitch, and lofted the ball straight down the throat of Elliot at Long-on after scoring three from seven balls.
Pakistan lost their first wicket in the sixth over when the high-flying Sharjeel was brought down to earth by Kiwi pacer Milne.
Sharjeel looked for a lofted drive to a full, wide ball but only managed to scoop it to Guptill. Pakistan opener blasted 47 from 25 balls.
He rattled New Zealand early with nine fours and a huge six. The first wicket partnership for Pakistan produced 65 runs in 5.3 overs.
Sharjeel Khan came out to bat like a man possessed and took on the Kiwi bowlers with utter contempt. He swung at anything in his arc, and managed to give Pakistan a quick start to chase down 181.
Pakistan opener pulled and flicked effortlessly, as the ball was coming on nicely on the bat at Mohali under the lights.
Earlier, New Zealand piled 180 for 5 on Pakistan thanks to 80 from Guptill and Taylor cameo late in the innings at Mohali under the lights.
For Pakistan, Mohammad Sami and skipper Afridi took two wickets each.
Shahid Afridi picked up his second wicket of the game in the 16th over, although he gave away 40 runs in his spells tonight.
Corey Anderson tried to score some quick runs, tried to smash the ball down the ground but mis-timed his drive. Shoaib Malik at long-off took a sitter.
Kiwi allrounder scored 21 from 14 with three fours to his name.
When it looked like New Zealand were batting Pakistan out of the match with their third wicket stand between Guptill and Anderson, Mohammad Sami struck in the 15 th over.
Guptill ran the ball onto his stumps after placing his team on the pedestal for a huge total. He carted the Pakistani bowlers all around the park with his range of shots, and scored 80 from just 48 balls.
Kiwi opener's knock contained ten fours and three towering sixes.
New Zealand lost their second wicket in the ninth over as Pakistan skipper struck with the ball. Munro swiped a flat delivery on middle straight down the throat of sweeper cover.
Colin Munro managed seven runs before he was dismissed.
Pakistan managed to get their first breakthrough in the 8th over when Mohammad Irfan got the better of Williamson with a slower ball.
Williamson tried to hit to cover, but the ball took the outer half of his bat and was caught by Afridi. Kiwi skipper did the job with 17 from 21.
The first wicket stand for New Zealand produced 62 runs in real quick time.
Martin Guptill went on his merry way and was marauding Pakistani bowling on the batting pitch at Mohali under the lights.
He was particularly severe on anything short, and used his feet to give himself some room to swing his bat. The Kiwi opener exploited the power-play overs brilliantly and struck some huge sixes straight down the wicket.
New Zealand skipper Kane Williams won the toss and decided to bat first against Pakistan in the Super Ten match of ICC World Twenty20 at Mohali, India.
A victory against Pakistan in Mohali will take the Kiwis to the semi-final for the second time at a global event in as many years.
"Looks pretty good, a bit of grass but dry underneath. Looks a different surface so we have to adapt again. Unchanged today. We have a bunch of guys playing for a common cause, hopefully we can put a bit of pressure in the second innings," Williamson told ESPNcricinfo after winning the toss.
It was not that long ago that New Zealand were seen as dark horses at nearly every world tournament. In this one though, they've been a bit like chameleons, changing their colours to suit their surroundings and hoodwink those higher on the food chain.
Shahid Afridi and his men, no matter how much their erratic form hints otherwise, are no pushovers. News from the camp is that the batting still needs patching up, but the area more in need of improvement is their utilisation of resources.
"Fresh surface, will be a little hard as well. Chances to take some early wickets. I just relax these guys, we have to focus on what we are doing, that is the main thing. Last game is history and this is an important game for us. Two changes, Hafeez and Riaz are not fit but Khalid Latif and Imad Wasim are in," said Afridi after the toss.
New Zealand
MJ Guptill, KS Williamson (Captain), C Munro, CJ Anderson, LRPL Taylor, GD Elliott, MJ Santner, L Ronchi (Wicketkeeper), AF Milne, MJ McClenaghan and IS Sodhi
Pakistan
Ahmed Shehzad, Sharjeel Khan, Khalid Latif, Umar Akmal, Shoaib Malik, Sarfraz Ahmed (Wicketkeeper), Shahid Afridi (Captain), Imad Wasim, Mohammad Amir, Mohammad Sami and Mohammad Irfan