Mahmudullah takes blame for India loss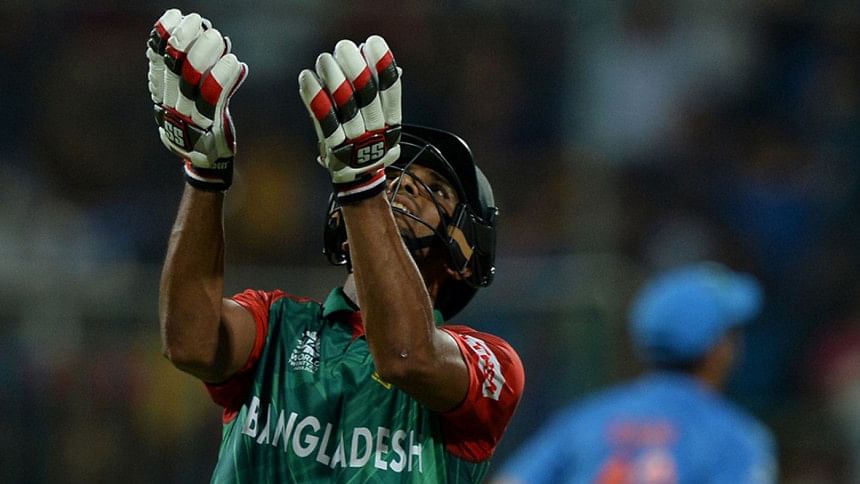 Bangladesh allrounder Mahmudullah has taken responsibility for his team's one-run loss to India in Bangalore during the World T20 last month. With two runs required off as many balls, a set Mahmudullah tried hitting a full toss for a six in the region of midwicket, but was caught on the boundary. The previous ball a set Mushfiqur Rahim had also been caught on the leg-side boundary going for the big shot, and a ball later MS Dhoni ran out Mustafizur Rahman; that meant Bangladesh were denied a first T20I victory against India.
"Can I forget what happened? Not for once did we think we wouldn't win when we needed two runs off three balls with myself and Mushfiqur at the crease," Mahmudullah told BDnews24. "To be honest, I couldn't believe Mushfiqur would get out after hitting two fours. Then I got out. It was my fault. It was a huge chance to beat India in India, but we couldn't take it. It was heart-breaking for all of us."
Mahmudullah said that he could not forgive himself for the one-run loss. The next time such a situation arose, he said, he will not risk the big shot. "Still there was hope. I thought we could get at least one run off the last ball. It didn't happen, and it was my fault. I wanted to finish the game off. The chance was there, I couldn't take it. I missed a ball that had to be struck for a six. I can't go back and do it again. But I will try to take the safer option next time I face such a situation."
The game against India was the only blip in a rewarding year for Mahumudullah. After a successful 2015 in ODIs, where he scored back-to-back hundreds in the World Cup, Mahmudullah retooled his T20 game and became Bangladesh's go-to end-overs hitter. His 275 runs in 14 T20 innings this year have come at a strike rate of 139.59. His unbeaten knocks against UAE, Sri Lanka and Pakistan were crucial to Bangladesh's progress to the Asia Cup final this year. His current form also led to Sheikh Jamal Dhanmondi Club choosing him as the first pick among the top 13 cricketers during the players' draft of the Dhaka Premier Division Cricket League last Sunday, ahead of players like Shakib Al Hasan and Tamim Iqbal, a testament to his rapid growth.