Undercooked Nadal targets Grand Slam number 23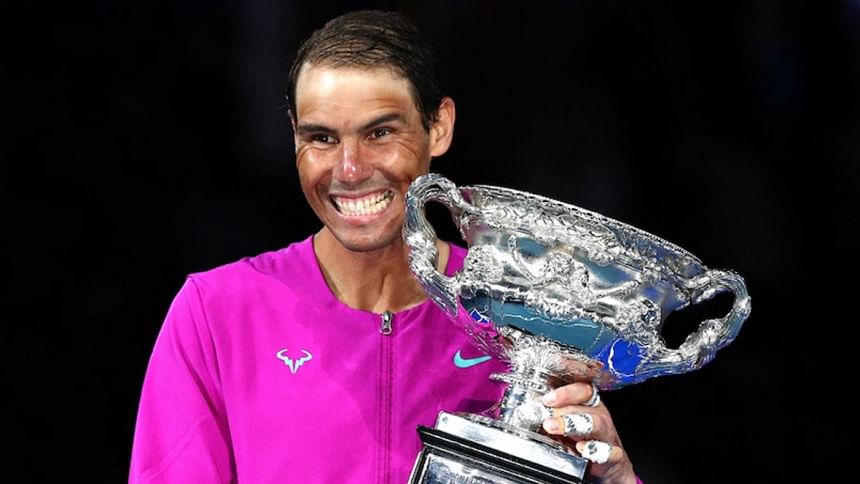 Rafa Nadal will head into the Australian Open undercooked and with only one win to his name since September's U.S. Open, but it would surprise nobody if he retained the title he won for the second time last year.
The 22-time Grand Slam winner will face UK's Jack Draper in the first round of the competition on Monday.
The ravages of two decades on tour mean Nadal has rarely been able to prepare for majors like other players, forcing him to rely on skills and mental fortitude, which have earned him 22 Grand Slam titles, kicking in once the action starts.
Rib, abdomen and foot injuries kept him off court for much of the season after Wimbledon last year and he lost both of his matches in United Cup action for Spain to kick off the new year last week.
While hardly ideal, fitness counts a lot more than form at this stage of his career and the 36-year-old Spaniard is possibly in a better position than he was at the start of last season, when he thought a foot problem might end his career.
"It's true that the last couple of months I was not able to play much tennis and at the beginning of the season I lost two matches in Sydney, but honestly I am not unhappy with the preparation," Nadal said in Melbourne on Tuesday.
"I need to win matches for sure, but the preparation is going quite well, practising a lot and I think I am in good shape.
"Then you need to demonstrate that in matches, in official tournaments.
"But I'm confident that if I am able to have this last week of positive practices, why not?"
As world number two, Nadal will be top seed on his 18th trip to the Australian Open after the injury withdrawal of his young compatriot Carlos Alcaraz.
That should give him the opportunity to play his way into the tournament in the first week in preparation for tougher opposition in the later rounds.
Nadal's recovery from two sets down to beat Daniil Medvedev over five-and-a-half hours in last year's final showed the competitive fire in his belly burns as brightly as ever.
He followed that up with a 14th French Open title and could forge even further ahead of Novak Djokovic (21) and the now retired Roger Federer (20) in the Grand Slam title race with a third triumph on Melbourne's famous blue courts.
"He just has to get there healthy. He's going to be an absolute animal and I'm sure that he is going to play his best tennis," former Grand Slam champion Mats Wilander told Eurosport this week.
"He has a big chance to win the Australian Open."