Top five contenders for the Australian Open men's crown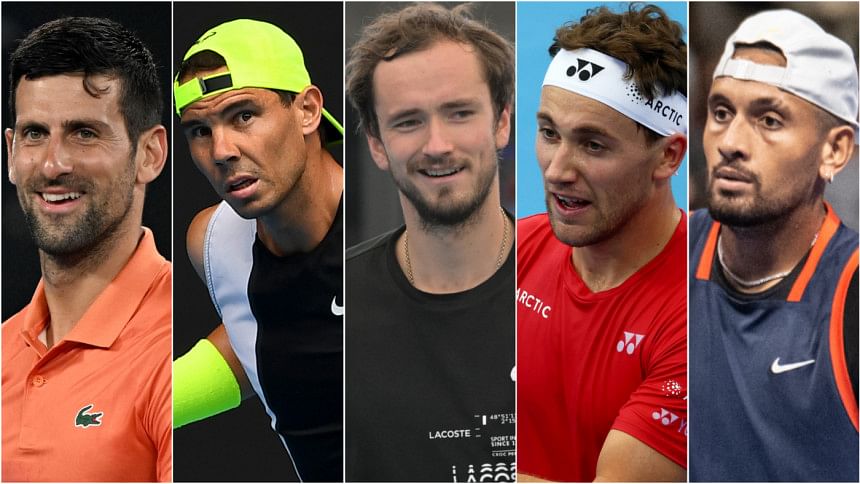 Five top contenders for the men's title at the Australian Open, which starts on Monday:
NOVAK DJOKOVIC
The former world number one is looking to match Rafa Nadal's record of 22 Grand Slam titles and returns to Australia hoping to make headlines on the court following his deportation last year over his COVID vaccine stance.
Djokovic overcame a hamstring issue and saved a championship point in Adelaide to win the final and maintain his unbeaten streak in Australia, which now stands at 33 matches since his last loss in the fourth round of the 2018 Australian Open.
The 35-year-old is seeking a record-extending 10th title in Melbourne.
The Serb is back at Melbourne Park for the first time since winning his ninth title in 2021 and says he "likes his chances". He was kicked out of the country ahead of the tournament last year over his Covid vaccination stance.
The 21-time Grand Slam winner also missed the US Open for the same reason, but won Wimbledon and is heavy favourite at his most successful major despite a niggling hamstring injury.
Now 35, the former world number one finished a troubled 2022 with a record-equalling sixth ATP Tour Finals crown and began the new year in irrepressible form, winning his 92nd career title at the Adelaide International.
"I know when I'm healthy and playing my best, on this court (Rod Laver Arena) I have chances really against anybody," he said.
RAFA NADAL
Nadal is looking to defend his hard-earned 2022 crown and is the de facto number one in Melbourne following the injury withdrawal of fellow Spaniard and U.S. Open champion Carlos Alcaraz.
The 36-year-old did not have the best of starts to the season, however, losing both his matches in the inaugural United Cup.
But Nadal put that down to rust having skipped tournaments in an injury-ravaged 2022 season where he won four titles, including two majors.
The 36-year-old Spaniard made the most of Djokovic's absence to win the title in 2022, outlasting Daniil Medvedev over five sets in a more than five-hour thriller.
He made history in the process -- the first man to achieve 21 Grand Slam singles crowns, making it 22 when he won a 14th French Open title.
But injuries hampered his season and he withdrew from Wimbledon after winning his quarter-final and exited in the last 16 at the US Open.
Now a father, Nadal struggled to find his best form at the ATP Finals in November and lost both of his matches at the recent United Cup, to Cameron Norrie and Alex de Minaur.
He is top seed in the absence of Alcaraz and insisted "my personal momentum is not bad, I tell you. I am good and happy."
DANIIL MEDVEDEV
The former world number one will be hoping to make it third-time lucky in Melbourne after losing the 2021 and 2022 finals to Djokovic and Nadal, respectively.
Medvedev has slipped to eighth in the rankings but the Russian counter-puncher and hardcourt specialist has vowed to find a way to rediscover his 2021 form when he won his first major at the U.S. Open.
The 26-year-old Russian was unable to match his run to the Melbourne final at the French or US Opens last year and never had a chance at Wimbledon after being banned due to the Ukraine war.
He did win two titles and spent 16 weeks as world number one.
But it was an underwhelming year in the eyes of the 2021 US Open champion, who has slipped to eight in the rankings.
He began 2023 at the Adelaide International, where he was beaten by Djokovic in the semi-finals.
"Every time I play them (Djokovic and Rafael Nadal), before the match the only thought is I have to win," he said.
NICK KYRGIOS
The mercurial Australian has not played on tour since October and did not play in tune-up events due to a niggling injury, but such is his talent that he could walk into the main draw without match practice and still swat opponents aside.
Kyrgios won the doubles title in Melbourne and followed it up with a run to the Wimbledon final where he lost to Djokovic, who has agreed to play the 27-year-old in a practice match on Rod Laver Arena before the Grand Slam kicks off.
Love him or hate him, Kyrgios is a showman and nowhere more so than on home turf in Melbourne, drawing huge and rowdy crowds.
While his frequent tantrums have long overshadowed his talent, the enigmatic Australian had a stellar 2022, making a barnstorming run to a first Grand Slam singles final at Wimbledon, losing to Djokovic.
He has never gone past the Australian Open quarter-finals and his build-up has been hampered by an ankle injury, but the unpredictable Kyrgios is an outside chance if he can handle the pressure and keep his cool.
CASPER RUUD
Last year marked a turning point for Ruud who made deep runs in tournaments and reached finals of Grand Slams, Masters and the season-ending ATP Finals -- only to finish on the losing side every time.
Ruud even had the opportunity to clinch the world number one spot before Alcaraz triumphed in the U.S. Open final.
A claycourt specialst, Ruud has adapted well to hardcourts and learned to manage five-set matches. He has his eye on another deep run in Melbourne having moved up to third in the rankings.