'I can help my second home'
Margarita Mamun, gold medallist at the 2016 Rio Olympics, inaugurated the opening ceremony of the Bangabandhu 5th Central South Asian Artistic Gymnastics event as Bangladesh Gymnastics Federation's goodwill ambassador on Wednesday at the Shaheed Suhrawardi Indoor Stadium in Mirpur. She met with gymnasts from the six nations that are participating in the event and spoke at great length in an interview with The Daily Star's Anisur Rahman about her spectacular professional journey and also about her special bond with Bangladesh among other things.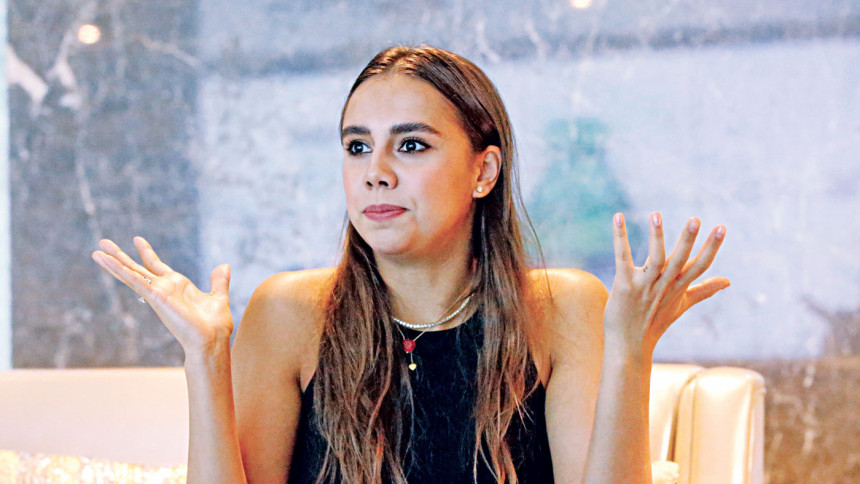 The Daily Star (DS): Welcome to Bangladesh. How do you feel after coming to your second home after such a long period?
Margarita Mamun (MM): It is my first visit after the Rio Olympic Games and I'm really happy and amazed to have received such a warm welcome from Bangladeshi people. I'm really happy to be here with my family. My mother is here, after 15 years, as well as my husband and our two-year-old son, who are here for the first time.
DS: You were 10 when you came to visit your grandfather's home in Rajshahi? Can you recall memories from that trip which took place 15 years ago?
MM: I can remember in flashbacks but I have a lot of pictures and videos from that trip. I think I will visit the beautiful Rajshahi next time when I come back with more time in hand. Of course, this will not be our last visit here.
DS: Take us to the beginning of your gymnastics career.  What made you choose the sport?
MM: After seeing rhythmic gymnastics on television, I just liked it so much that my mother had to take me out to play the sport.
DS: We know your mother was also a rhythmic gymnast, who perhaps inspired you but what about the role of your father -- Abdullah Al Mamun -- in your career?
MM: My mother was an aspiring gymnast. Unfortunately, she only had a couple of months of training because her parents couldn't take her to the training every day. My father was always supportive and was proud of me, starting from when I achieved medals at the age-level to the ones at European Championships and World Cup.
DS: How challenging was your experience as a rhythmic gymnast in Russia?
MM: I practiced every day, almost 24 hours (big laugh) I think. In Russia, as there are too many talented girls, it was extremely hard to pursue a place in the national team. There was a time when I almost competed for Bangladesh, even though there was no rhythmic gymnastics in Bangladesh at that time. My father knew Mamun [Bashir Ahmed], who was the president of the Bangladesh Gymnastic Federation at that time but then my head coach Irina Viner intervened and gave me the opportunity to feature for the Russian national team.
DS: But you once represented Bangladesh during your childhood.
MM: Yes, it was an international competition held in Germany but not recognised by FIG [International Gymnastics Federation]. I think Bangladeshi people are happy to know that I once competed for Bangladesh. My father had also brought the Bangladeshi press when I became world champion in 2013 and he showed me how to celebrate with the people. 
DS: You have been known as the Bengal Tiger. Can you tell the story behind it?
MM:  After the London Olympics 2020, I became the Russian national team's number one and had the spotlight from the press. Coach Irina knew my background. She told the journalists that they can call me Bengal Tiger as I'm half Bengali and the journalists picked it up from there.
DS: Why did you call time after winning gold at Rio at the age of 20, whereas most athletes usually take part in the Olympics for more than one occasion?
MM: Among many reasons, I had some injury concerns and health-related issues, so I decided before the Rio Olympics that it would be my first and last Olympics. I had already been a world champion at the age of 17 by then.
DS: What keeps you occupied these days?
MM: I am now a full-time mom who prioritises the family because I didn't often see my family when I was in training. But now, I think that after this trip when I go back home, I will discuss with Mr. Mamun [Bashir Ahmed] how I can help my second home.
DS: What advice do you have for Bangladeshi athletes who are trying to improve their standard to compete at the world-class level?
MM: I know Bangladesh is still waiting to win an Olympic medal. The big question is: How Bangladeshi athletes can achieve the highest results? I think I can assist, maybe not as a coach but maybe as a United Nations ambassador where I can inspire aspiring athletes to become bold dreamers. I think the impact has to be in all walks of life, not just on the sporting or the professional front.
DS: Finally, do you know the Bengali language, and if so, would you like to say something in Bengali to the readers of The Daily Star?
MM: Of course! When I was young, my father taught me the numbers: Ek, dui, tin, char, paach, chhoy, shat, aat, noy and dosh. I know some Bengali words like Shundor [beautiful] and one phrase, which is: Aami Bangladesh ke bhalobashi [I love Bangladesh].