Gold winner Imranur touches down in Dhaka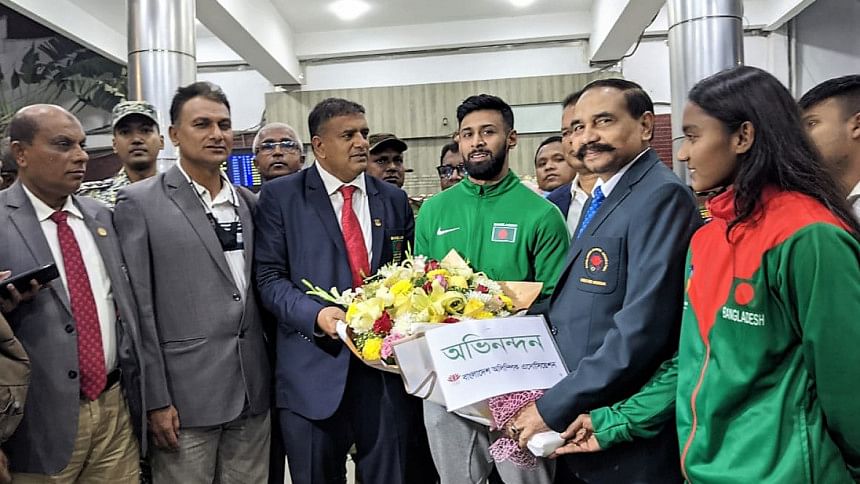 Sprinter Imranur Rahman, who created history last Saturday by becoming the first Bangladeshi to win a gold medal at the Asian Indoor Athletics Championship in Kazakhstan, arrived in Dhaka last night amid huge enthusiasm following his 60m sprint triumph.
The 29-year-old sprinter clocked his best timing, of 6.59 seconds, in the 60-metre event to win the gold medal in Astana, the capital of Kazakhstan. 
The England-based sprinter was supposed to arrive in Dhaka yesterday morning but the 29-year-old, along with woman sprinter Shirin Akhtar, and Bangladesh Athletics Federation (BAF) general secretary Abdur Rokib Montu reached the capital at night due to an 11-hour delay of their flight.  
Bangladesh Olympic Association (BOA) secretary general Syed Shahed Reza and other BAF and government officials received them with flowers and sweets. 
Imranur is likely to get a reception from the Bangladesh Army, the organisation he represents in domestic competitions, and from the ministry of youth and sports. The BAF is also trying to get an appointment of the Prime Minister for Imranur. 
Imranur has been doing two jobs in England to run his family and continue his athletics training. The athlete sought financial help to give more time in training. 
"We have been trying our best to help Imranur and we are hopeful that we will get financial aid for him from somewhere," said BAF general secretary Abdur Rokib Montu.
He also informed that they had submitted a proposal for Imranur to BOA regarding the matter and that BOA secretary general is positive about it.