Archery squad depleted for Asia Cup Stage-3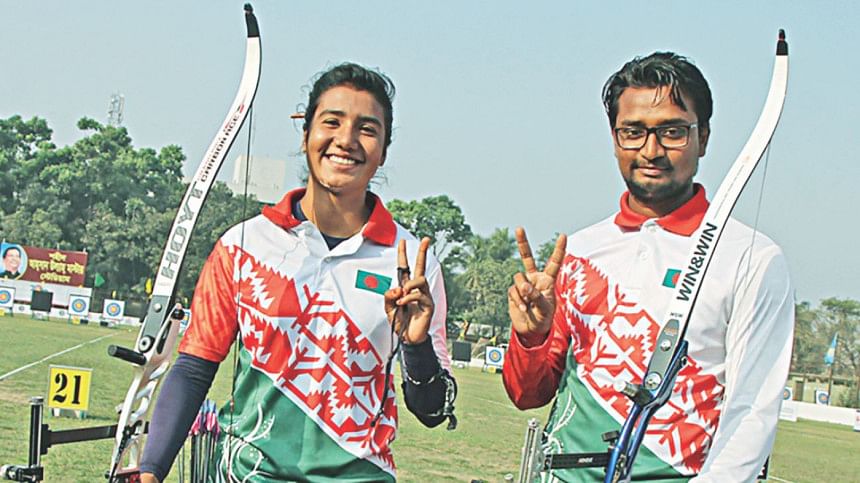 Bangladesh returned home with four silver and as many bronze medals from Asia Cup Archery Stage-2 from Iraq in May while riding on individual achievements -- from the likes of Ruman Sana, Diya Siddique and Shyamoli Roy as well as some achievements from teams -- but none of those individuals are in the Bangladesh squad ahead of Asia Cup Archery Stage-3 beginning on December 20 in Sharjah, United Arab Emirates.
Despite the absence of top archers, German coach Martin Frederick is hopeful to bring some medals from the competition as well as give international exposure to the young players ahead of a busy next year.
Ruman had recently been given a two-year suspension and Diya has been busy with her HSC examination, while archers like Nasrin Akter and Beauty Roy, as per Bangladesh Archery Federation general secretary Razib Uddin Ahmed Chapal, have been sick. Thus, the recurve women's team that won silver medal in Iraq could not be formed.
Apart from Ruman, former national champion Abdur Rahman Alif also failed to make his place in the recurve men's team that featured two new faces – Sagor Islam and Misha Prodhan – along with experienced Hakib Ahmed Rubel, while newcomer Fahmida Sultana Nisha will only represent recurve women's team following unavailable of Diya, Nasrin, and Beauty.
With the absence of top archers, especially Ruman Sana, coach Frederick wants to groom up the young archers by giving them international exposure in coming days.
"Of course, it is still very sad about the situation (of Ruman Sana). We are trying to close the gap between young players and the team but it is not easy. It is the start for the new team and let them fight, let them have some international experience," said the German coach.
"I don't want to calculate the medals again. The progress of the camp is good and I am really looking forward positively to shake up," Fredrick said. 
"Nisha is a very young player who is 16. She needs international experience, especially the mixed team experience, but we have to make sure that our women's team is strong and complete in 2023."
As many as 200 archers from 30 countries are going to participate in the Asia Cup Archery Stage-3 and Fredrick wants to win some medals for Bangladesh.
"I first want to see that they (archers) make a start in Sharjah and think that we have chances to go in that direction in all categories. I want at least a few medals to bring home," said Frederick, who has been working with Bangladesh archers since early 2018.