Bangladesh flagbearers make their bow today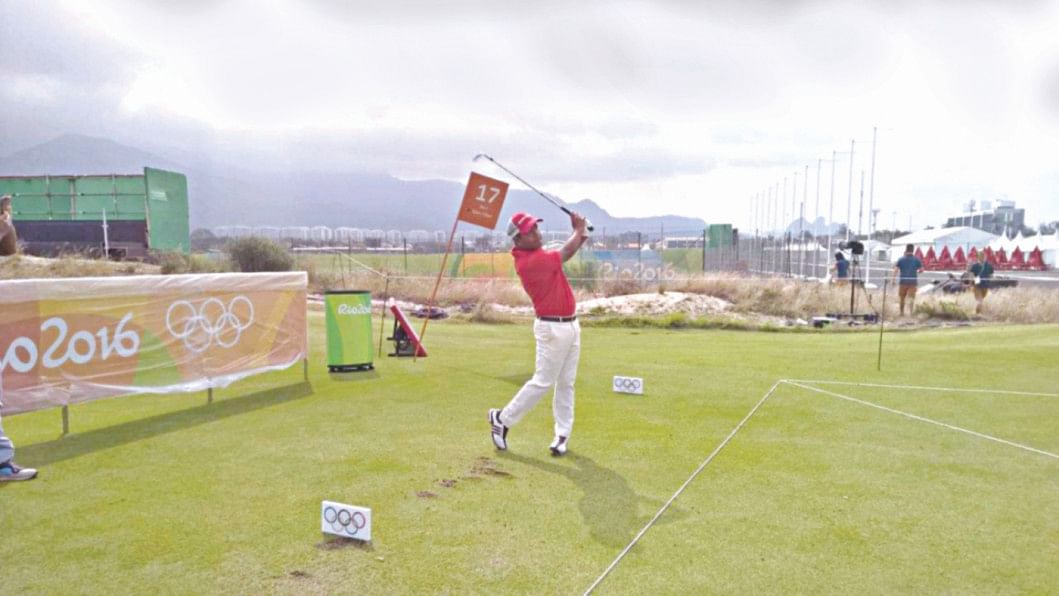 Siddikur Rahman and Mahfizur Rahman -- two of the flag bearers for Bangladesh in the Olympic Games -- will carry the nation's hopes at two different venues of Rio de Janeiro today.
Siddikur, the country's first Olympic qualifier and the carrier of the national flag at the 2016 games, will tee off at the Olympic Golf Course at 10:14 today (7:14pm Bangladesh time) while Mahfizur, who had carried the red and green in London four years ago, will take to the 100m freestyle heat three hours later at the Olympic Aquatics Stadium.
"It has been a great honour for me to have carried the national flag in the marchpast, with more than three billion people watching worldwide," Siddikur told The Daily Star on Tuesday.
"It was an experience of a lifetime and I am really grateful to everyone. Now I want to concentrate on my game," Siddikur said. "The Olympics has been a different kind of experience for me. If I hadn't qualified for Olympics, I wouldn't have known how big and how great this thing is."
The 31-year-old has been practising for six to seven hours every day at the Olympic Golf Course since he arrived here on August 3. He will compete against 59 top golfers from around the world including stars like Rickie Fowler, Martin Kaymer, Bubba Watson and Danny Willet.
Siddikur however said that he will not be feeling any extra pressure since he has played with most of these golfers, including Asian Tour regular Adilson da Silva of Brazil, who will tee off the proceedings. "I'm not setting any target for this event. There will be no cuts, and everyone will play all four rounds. I will just try to play my natural game."
Mahfizur, on the other hand, knows well what the Olympic Games are all about. The 23-year-old swimmer from Pabna finished 39th among 58 swimmers in his pet event of 50m freestyle, clocking 24.64 seconds in London. With the Olympic record more than three seconds less and the world record a little short of four seconds less it is needless to say that Mahfizur's target would be to eclipse his previous best timing of 23.99 seconds.
Mahfizur has undertaken a one-year course in Thailand and his best timing was achieved at one of the events in Thailand. He has also taken part in the last three world championships.
"I have been practising for two sessions a day here. Everything has been really good; I even met Michael Phelps the other day and took a selfie with him. I watched his events at the pool and it was really incredible to see him swim like that at this age," Bangladesh's fastest swimmer told The Daily Star yesterday.
"My target will be to improve on the previous best time. If I can do that I will be satisfied."