Winning starts for Sheikh Jamal and Ctg Abahani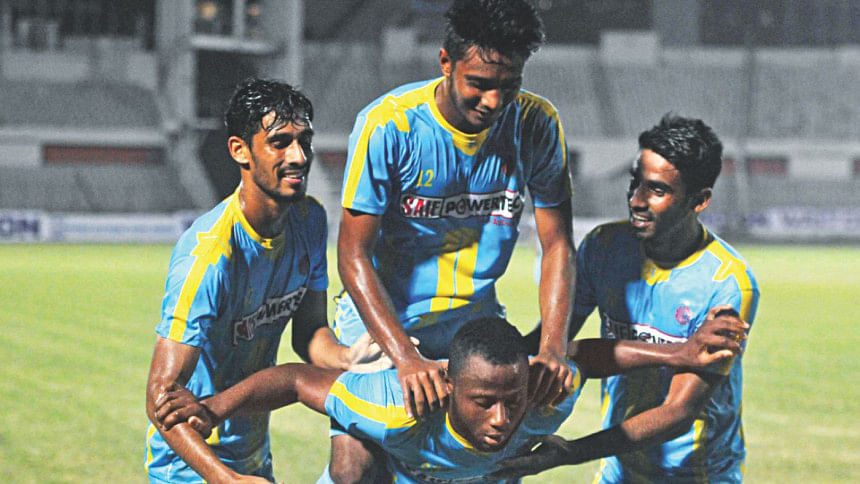 New powerhouse Chittagong Abahani and former champions Sheikh Jamal Dhanmondi Club made winning starts in their respective groups in the Walton Federation Cup yesterday.
Chittagong Abahani impressed in their 2-1 win over Mohammedan in the first match of Group C after a rebuilding Sheikh Jamal breezed past Farashganj SC 3-0 in their Group B opener at the Bangabandhu National Stadium.
The battle between Chittagong Abahani and Mohammedan started gingerly, with neither side dominating in the opening half hour. But a 36th minute strike from Chittagong Abahani's Afeez Oladipo seemed to breathe some life into the contest. The Nigerian, who joined the port city outfit from Nepal's Manang Marshyangdi this season, found space between two defenders on a through-ball from a teammate and picked his target with an expert attempt from the edge of the box.
That goal brought out an immediate response from Mohammedan. Even though Syed Nayeemuddin's charges failed to get the equaliser, they  threatened a few times with a number of long-range attempts before the end of the half.
However, it was Saiful Bari Titu's big-spending outfit from Chittagong who grabbed the match by the scruff of the neck when midfielder Kaushik Barua skilfully finished a solo move with a fine effort in the 56th minute, finding the corner of the net with a well-placed shot past Mohammedan goalkeeper Rasel Mahmud Liton.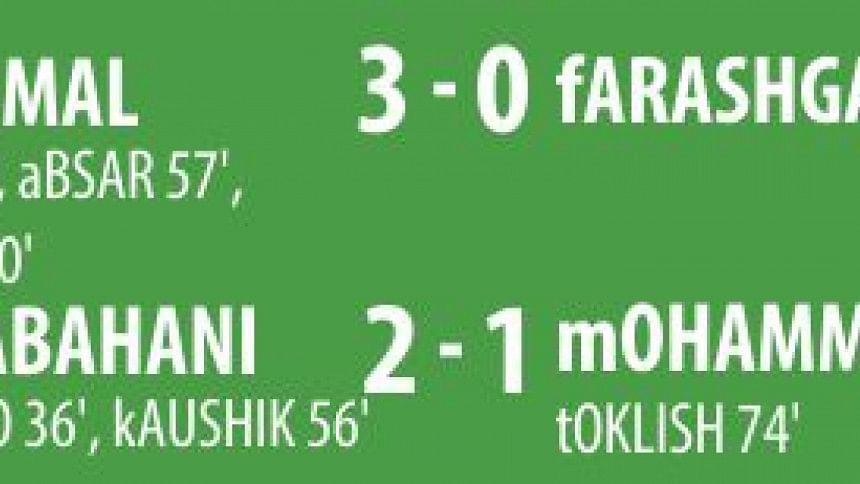 Mohammedan, who enjoyed the lion's share of possession since that second goal, got a lifeline when substitute forward Toklish Ahmed stabbed home a back-heel from Nkowcha Kingsley in the 74th minute. The Black and Whites mounted a late challenge in search of an equaliser, but Chittagong Abahani's defence held firm for a crucial opening victory.
The first match of the day was, however, devoid of such competition as Sheikh Jamal hardly broke a sweat to beat perennial strugglers Farashganj.
The three-time champions, being guided by Joseph Afusi, found an early lead before adding two more in the second half. Gambian recruit Mamodou Bah scored from the spot in the 11th minute after he was brought down inside the box by Farashganj defender Malick Mendy.
Young forward Nurul Absar doubled the margin on 57 minutes, poking home a rebound after his initial effort came off the side post while Anisur Rahman Sweet wrapped up the victory with a dipping shot from outside the left corner of the box, beating the Farashganj goalkeeper completely with flight.