Time is cruel says tearful Buffon after last Italy game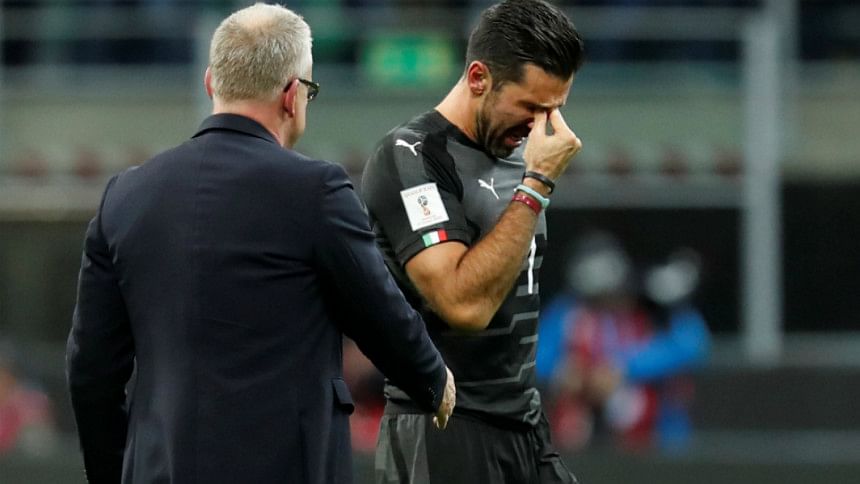 Tearful goalkeeper Gianluigi Buffon ended his 20-year Italy career in the saddest possible way on Monday with their first failure to qualify for the World Cup in 60 years.
The 39-year-old Buffon said after Monday's goalless playoff draw against Sweden, which ended Italy's hopes of going to Russia, would be the last of his 175 appearances.
"It's upsetting that my last Italy game coincides with our elimination for the World Cup," said Buffon, a World Cup winner in 2006. "That's my only regret, because time goes by and it's cruel but that's how it is."
Buffon made his full international debut in 1997 against Russia the last time Italy took part in a playoff to qualify for the World Cup. Then, they scraped through 2-1 on aggregate.
Italy's failure to reach next year's finals in Russia could also end the international careers of the defenders who have played in front of Buffon for the best part of a decade.
"I want to thank Giorgio Chiellini, Andrea Barzagli and Leonardo Bonucci who I've played with for so many years," said Buffon.
"Sport teaches you to lose and win as a group and share joy and pain. The coach (Gian Piero Ventura) has the same degree of blame as us," he added after Italy were eliminated 1-0 on aggregate having lost the first leg in Stockholm.
Four-times world champions Italy have only once failed to qualify for the finals -- in 1958 when they were hosted by Sweden -- though they did not enter the first World Cup in 1930.
"I'm upset not just for me but for everyone," added Buffon. "We didn't underestimate this playoff. Anyone who plays in these games knows how difficult they are and how difficult it is to get back a goal against a team like Sweden.
"We didn't succeed in playing to our abilities and we lacked energy and strength to score the goal," he added.