Referee should have been in the stands eating chips: Buffon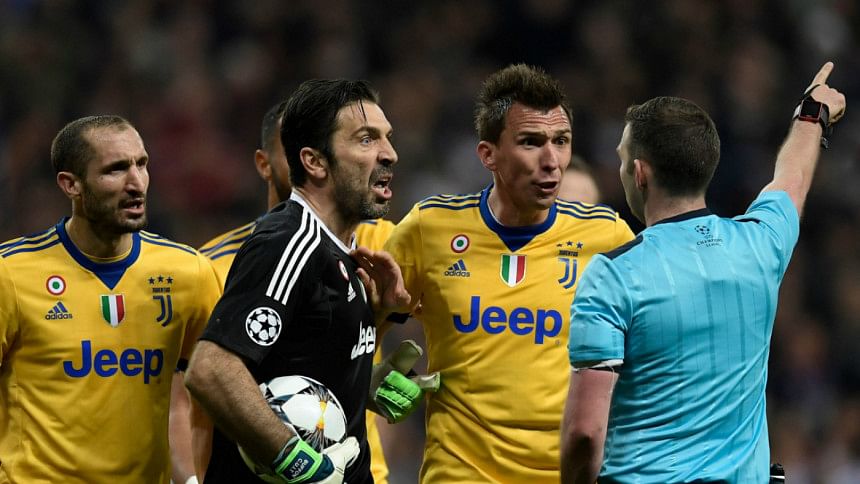 In a night of drama, Real Madrid were handed a late late penalty in stoppage time by English referee Michael Oliver. With the tie balanced 3-3 on aggregate, Cristiano Ronaldo converted the spot kick to send Real Madrid through to the semifinals of the Champions League.
Few had thought that Juventus could come back from a 3-0 defeat at Turin and pose any real challenge to the defending champions at the Santiago Bernabeu. Juve however clawed back, going 3-0 up within 61 minutes of play, thanks to two goals from Mario Mandzukic and another from Blaise Matuidi to make the aggregate score 3-3.
In the final few seconds of stoppage time, Toni Kroos found Cristiano with a lob inside the area and the Portuguese guided a header onto Lucas Vazquez's path. The decision to award the penalty caused huge uproar as the referee was convinced that Vazquez was pushed to the ground.
Juventus's veteran goalkeeper Gianluigi Buffon vehemently protested the decision and was red-carded by the English referee. For the first time in his illastrious career, the Italian was sent off. Buffon had some choice words for the referee post game.
"A quality referee does not destroy the dream of a team that has put everything on the field for 90 minutes," Buffon fumed.
"He wanted to play the part of the protagonist.
"A human being cannot whistle for an incident so doubtful after a game like that, unless you have a garbage bin instead of a heart. If you do not have personality, you should be in the stands eating chips with your family. This referee did not have the courage or the personality for this level.
"I could've told the referee anything at that moment, but he had to understand the degree of the disaster he was creating. If you can't handle the pressure and have the courage to make a decision, then you should just sit in the stands and eat your crisps."
Buffon suggested that the referee just did not have the mental ability to deal with the pressure of officiating a tense Champions League match at the Santiago Bernabeu. A refree, according to Buffon should not be bothered by what teams are playing the match and where the match is being played.
"If you don't have the personality needed for certain levels, it's better to watch the game in the stand with your wife, maybe eating chips. It's a question of the kind of sensitivity that every man must have, knowing whether to officiate or not. It means not knowing where you are, what teams are playing. In practice, it means you don't know shit."