Rivals rule out final game against Chapecoense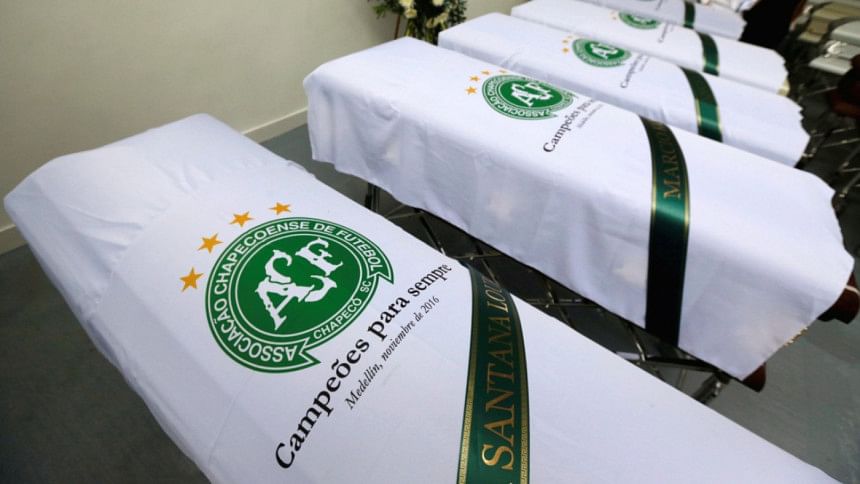 Chapecoense's opponents in the last game of the Brazilian league season said they would not play the match out of respect for the stricken club who lost most of their players in a plane crash, the president of Atletico Mineiro said on Thursday.
Daniel Nepomuceno told Atletico Mineiro's web site (www.atletico.com.br) that he had been in touch with the Brazilian Football Confederation (CBF), which had given its blessing.
"Atletico will not play, will not let Chapecoense play the last game," Nepomuceno said, three days after the southern Brazilian club lost all but three of their squad in the plane crash in Colombia.
"This is not the time to make these demands on players."
The Belo Horizonte club are in fourth place in the Serie A table, six points clear of the fifth-placed side with one game remaining. They have already qualified for one of the six Copa Libertadores spots. Chapecoense are in ninth place.
"Atletico will not play this game and the biggest punishment will probably be a loss of three points and as that will not affect the team's position it is the minimum that we can do for the family members, for the city, for the state and the country that has suffered so much this week," Nepomuceno said.
Monday's crash occurred as Chapecoense's plane approached Medellin where they were to play Atletico Nacional in the final of the Copa Sudamericana.
The CBF suspended all games for seven days following the accident. The second leg of the Brazilian Cup final between Atletico Mineiro and Gremio was one of the games postponed until next week.
The confederation has not yet decided whether to play the final round of games which were scheduled for Sunday. It made no immediate official comment on Nepomuceno's statement.