Tri-nation turns into two-nation FIFA friendly series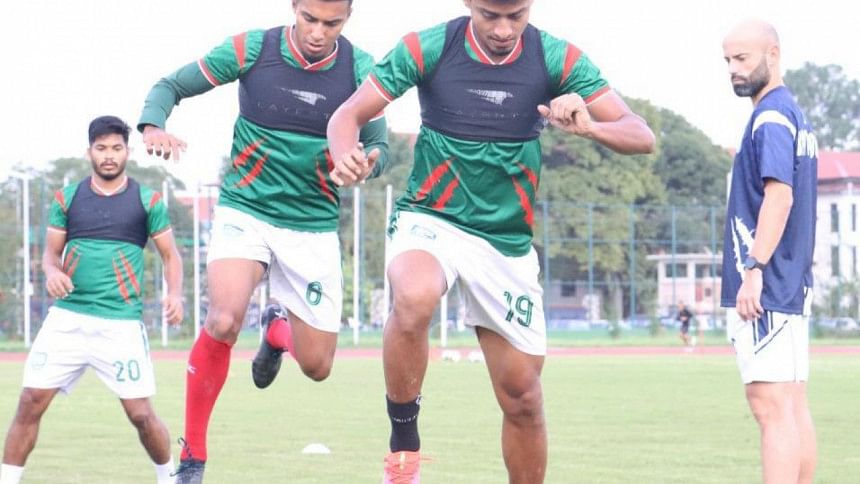 Bangladesh national football team's scheduled tri-nation tournament turned into a two-nation two-match FIFA friendly series against Seychelles after Football Association of Brunei expressed its inability to send national team to the tournament in Bangladesh.
Bangladesh tried to replace Brunei for the tournament, which was scheduled to be played in Sylhet, by inviting teams like Cambodia, Philippines and Afghanistan. However, Cambodia and Philippines informed BFF that they were already booked for FIFA friendly matches in this window while Afghanistan team were not ready to play at the moment.
"Brunei did not get approval from their government to travel outside while we could not replace them with another team despite communication with three national teams," BFF general secretary Abu Nayeem Shohag told The Daily Star on Tuesday.
"However, Seychelles will come timely and they will play two FIFA friendly matches against Bangladesh on March 25 and 28 in Sylhet," said Shohag, who was on his way to the airport to depart for FIFA Congress.
Meanwhile, the Bangladesh team will play an unofficial match against Malawi, who are in Saudi Arabia for the preparation of their qualifying match for African Nations Cup against Egypt.
"They are a very competitive team who are ranked 124th in FIFA and it is a fantastic challenge to keep improving and keep going forward," Bangladesh coach Javier Cabrera said in a video message.
He also said that he was going to use all of his players in the match, which will consist of four quarters of 30 minutes each.