No one like Kingsley: Jamal Bhuiyan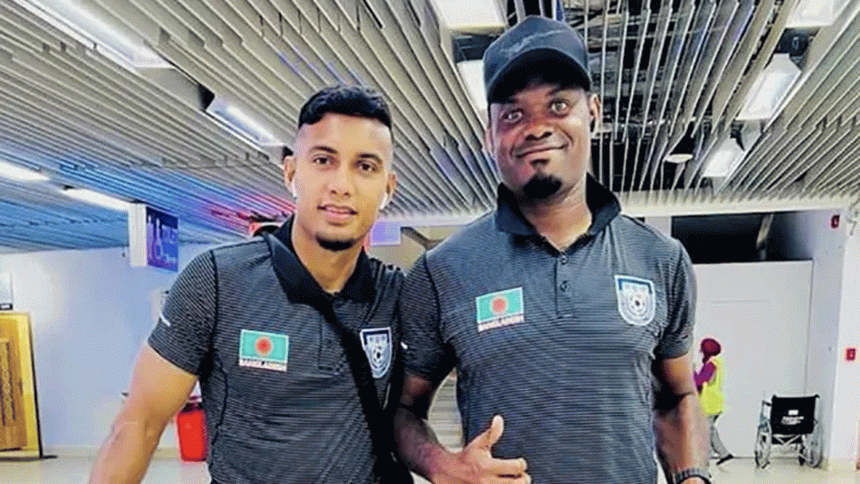 Ahead of the matches first of two FIFA friendlies against Seychelles, Bangladesh captain Jamal Bhuiyan feels the need for having naturalised Nigerian footballer Eleta Kingsley in the squad as the 33-year-old forward is counting hours to make his debut for Bangladesh.
"Compared to other strikers, he [Eleta] is different because of his physic. He has been playing in Bangladesh for a long time and no one is like him in Bangladesh. So, if Eleta is in the team, it will be an advantage for us because he is a genuine box player. Team needs Eleta," Jamal told reporters at the pre-match conference in Sylhet on Friday.
Kingsley has already worn the red and green jersey during a 1-1 draw in an unofficial match against Malawi during their preparation in Saudi Arabia this month, but hasn't yet played an official match for Bangladesh since being granted citizenship in March, 2021.
Kingsley was called in to Bangladesh's preliminary squad for the 2021 SAFF Championship but failed to make the cut in the final squad as Bangladesh Football Federation didn't risk being suspended. But, this time the game's local governing body is positive about defending Kingsley as a Bangladeshi player in case FIFA raises any issues.
Bangladesh Premier League champions Bashundhara Kings had paved the way for Kingsley to play for Bangladesh by using him as a substitute player against Maziya and ATK Mohun Bagan during the 2022 AFC Cup in Kolkata.
The current performance of the striker in the domestic league also helped him get a call in the preliminary squad, which will be reduced to 23 members after Friday afternoon's training. And the Nigeria-born is likely to be in the final squad.
"Definitely, Eleta has instruments to give to the team. He has been doing fantastic work in the training, Suman Reza is also doing fantastic in the team and other forwards are also doing well. So, there is no worry. Those who will play will give their best in the match," Bangladesh coach Javier Cabrera said.