'Proud' Jamal signs for Sol de Mayo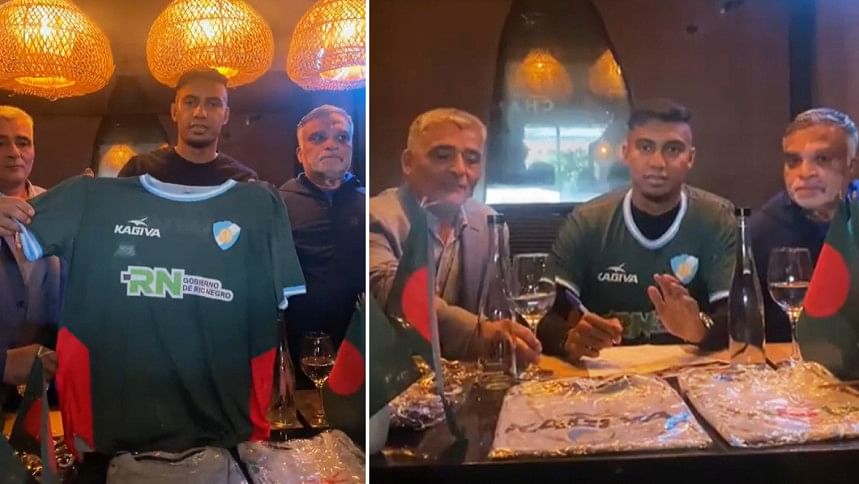 Bangladesh national team's captain Jamal Hossain Bhuiyan tonight signed an official contract with Club social y Deportivo Sol De Mayo, a third division football club of Argentina.
Jamal, sporting a long-sleeved black T-shirt, was surrounded by club officials and accompanied by a Bengali translator as he penned the contract. The contract signing ceremony was shown live from Jamal's Facebook page. 
"I represent Bangladesh and I know a lot of fans follow me. As a Bangladeshi, I am very proud and I want to show my skill and performance here," Jamal said in Bengali.
"I know I can perform well, then the door will be open for other Bangladeshi footballers."
Asked what he can bring to Sol De Mao, the Bangladesh captain replied, "I can give them experience because I have a lot of experience playing international matches. I also want to take Sol De Mayo to the next level."  
Although the term of Jamal's contract was not confirmed, Sol De Mayo informed that they would release Jamal for his national duty.     
"Of course, it will be good for me because I am also a national team player. I will feel proud to represent Bangladesh if they give me permission to represent Bangladesh. I want to thank Sol De Mayo.  
"I will represent Bangladesh in the best possible way because Bangladesh is my love," added the 33-year-old midfielder.  
Welcoming Jamal to Sol De Mayo, their president said, "Jamal is now here and we all are happy because it has been our dream to play Jamal in Sol De Mayo. We hope Jamal will take our club to the next level and I will request Jamal to think of Sol De Mayo as his own country. We will come up with the needs Jamal requires."
Meanwhile, Jamal had completed his medical tests in Argentina.
Back in February this year, Jamal Bhuiyan tried his best to get the release from Sheikh Russel KC after getting the offer from Sol De Mayo but Sheikh Russel refused to release Jamal, citing a shortage of players.
Earlier this month, the official social media page of Sol De Mayo stated that Jamal reached Argentina to play for them but the Bangladesh captain denied reports he was in the South American country. 
Jamal claimed he was in Europe while pictures of him in Buenos Aires went viral on social media. He had then declined to admit that he had penned a deal with Sol de Mayo.