Nilphamari set for stunning debut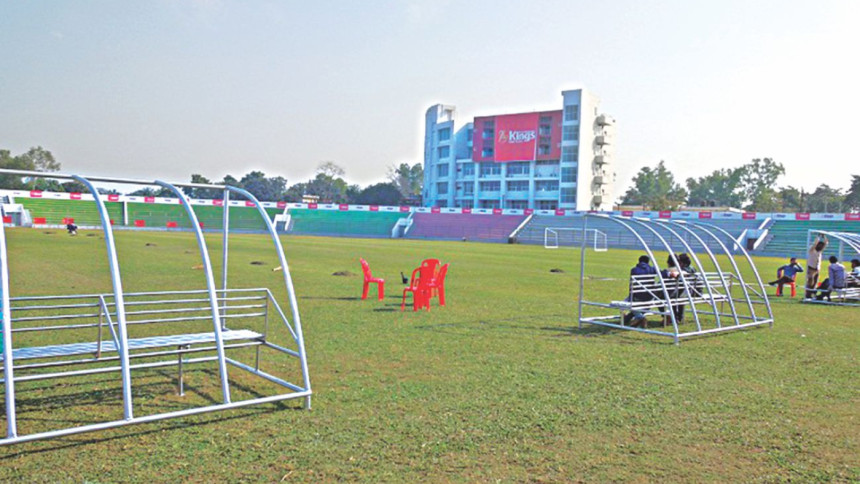 The Sheikh Kamal Stadium in Nilphamari will mark its debut as the 14th Bangladesh Premier League (BPL) venue with a high-voltage encounter between holders Abahani and hosts Bashundhara Kings today.
Although this is the first time that Nilphamari will though host a fixture of the country's top-tier professional football league, the Sheikh Kamal Stadium had staged two international matches last year -- the FIFA friendly match between Bangladesh and Sri Lanka and the international club match between Bashundhara Kings and New Radiant SC of Maldives. After these two games the venue came to the attention of the sports fraternity for its lush green ground and the spontaneous arrival of fans in droves.
The Sheikh Kamal Stadium, built in 1984, took on a new look after huge renovation works were completed last year with approximately Tk 14 crore being spent on building up nearly 750 square-feet of gallery, a new VIP stand, earth filling, and planting fresh grass among other tasks. The seating capacity of the stadium was subsequently increased to 20,000.
The Bangladesh Football Federation had previously discounted several venues such as the ones in Cox's Bazar, Beanibazar, Narsingdi and Tangail, as they failed to meet BPL standards. Meanwhile, venues like the ones in Narayanganj, Khulna and Feni are no longer used as their respective clubs refused to keep them as home grounds.
Although Nilphamari does not have its own club, the venue has all the necessary facilities to host tournament matches and so, it is expected that should any club chose to make the venue their own, just as Bashundhara Kings did this season, then the tenure should last a while.
Before the 11th BPL got underway, some 13 venues were used but this time around, only six venues, including two new ones, will be used to host all the matches. The Shaheed Bulu Stadium in Noakhali is also all set to be announced as the 15th venue of the professional football league through a match between Team BJMC and Saif SC on Thursday.
While the Bangabandhu National Stadium in Dhaka and the Rafque Uddin Bhuiyan Stadium in Mymensingh struggle to draw spectators, the Sheikh Kamal Stadium is expected to see a healthy number of fans turn up as some 10,000 tickets have already been sold as of yesterday while more are to be sold on the matchday.
"Having inspected different venues, Bashundhara chose this stadium as it has all the facilities and also keeping the football-crazy fans of Nilphamari in mind," District Football Association president Arif Hossain Moon said. "I think the spectators will enjoy the match and there be support for both teams."
Abahani manager Satyajit Das Rupu also believes that they will get support from the gallery as the Sky Blues have fans across the country.
"Actually, both Abahani and Bashundhara Kings are visitors at this venue and we also expect to get supports from our fans from the gallery," said Rupu, whose side will travel to Nilphamari from Rangpur to play their first away matches.
Both Abahani and Bashundhara Kings began their league campaigns with victories and the two title contenders are surely looking forward to toppling each other in their second match of the ongoing BPL to take an early advantage on the 13-team points-table
State minister for youth and sports Jahid Ahsan Russel and BFF president Kazi Salahuddin are expected to attend the opening ceremony of the venue.