Liverpool's Mac Allister has red card overturned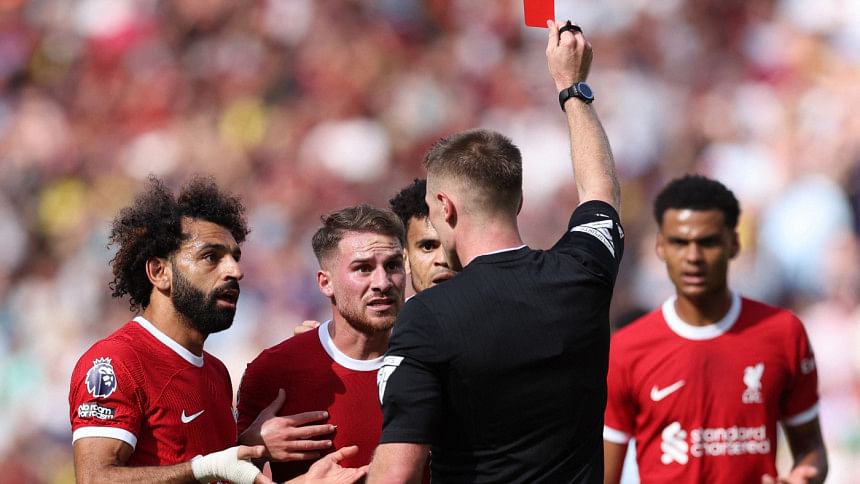 Liverpool midfielder Alexis Mac Allister had his red card against Bournemouth overturned on Tuesday after the Reds appealed against the controversial dismissal.
Mac Allister was dismissed by referee Thomas Bramall after catching Bournemouth midfielder Ryan Christie on the foot in the 58th minute of Liverpool's 3-1 win in the Premier League on Saturday.
Liverpool manager Jurgen Klopp was furious with the decision and claimed Mac Allister's absence for much of the second half should be the only punishment the Argentine World Cup winner face.
"After the game I saw it back. I think if you have a list of points, what we need to give a red card, besides contact there's nothing else, no other boxes ticked," Klopp said on Saturday.
"It's a decision we all agree if he gives a yellow card VAR would not overturn it and if he gives a red card VAR will not overturn it because contact means it's not a clear and obvious mistake."
Mac Allister would have been suspended for three games if the ban had been upheld, but now he is free to return to the team.
"An independent regulatory commission has removed Alexis Mac Allister's three-match suspension following a claim of wrongful dismissal," a Football Association spokesperson said.
"The Liverpool midfielder was sent off for serious foul play during their Premier League game against Bournemouth on Saturday, 19 August."
Liverpool responded to the FA decision by saying: "A club appeal against the suspension has now been upheld by an independent regulatory commission, meaning Mac Allister is eligible for selection when the Reds travel to Newcastle United on Sunday."