Jamal doesn't want a lavish Eid while others starve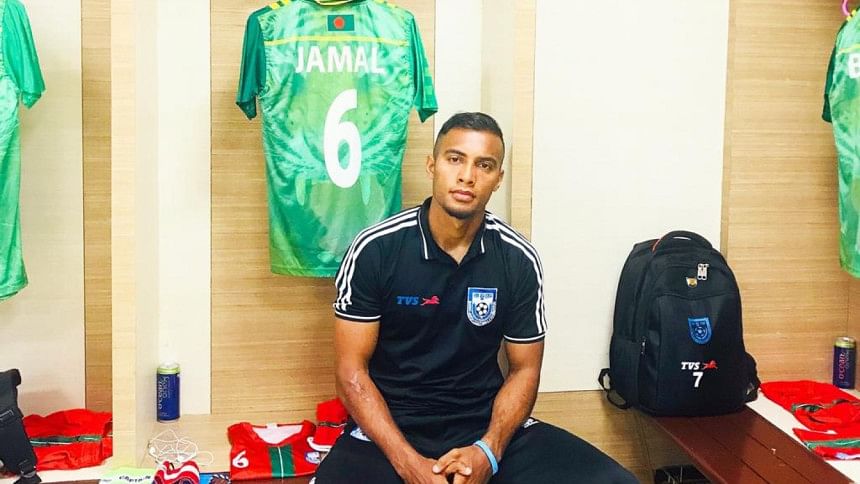 Bangladesh football captain Jamal Bhuyian mentioned that he does not like the thought of celebrating Eid with gifts and delicious food while there are vulnerable people starving during the ongoign coronavirus pandemic. 
Following in the footsteps of many athletes who have auctioned their treasured sporting equipment, Jamal today announced his willingness to donate one of his favourite jerseys to help the disadvantaged people of the country during the coronavirus crisis.
Jamal expressed his desire to put on auction the jersey he wore during Bangladesh's 1-1 draw against India in a World Cup qualifier fixture in October last year. Bangladesh had taken the lead in that game through a Saad Uddin header, assisted by Jamal from a free-kick. 
Jamal, who is now in Denmark, explained to The Daily Star through a text the reason behind his generous gesture. Jamal's touching and inspiring message is given here in its entirety: 
"Bangladesh has given me so much over the last few years, so I want to give back to the people. 
"People have always shown me love. 
"We have people starving in the streets; that for me is not idealistic. There are a lot of people who have a lot of money in Bangladesh and yet we have people who don't have food, houses, apartments, clothes, etc. 
"I know that people who have earned money, have earned it with hard work and dedication, and I respect that a lot. 
"I don't have that big [an amount of] money but I still feel guilty walking by somebody who doesn't have anything. Because I know I can help that person. 
"Only you know what you got in your pocket. Whatever you give is your choice. 
"I don't like the thought that some people are celebrating Eid with gifts and delicious food while there are some people starving. That's not fair. 
"I don't want to grow old and before I die regret that I didn't help out my people when I could. Allah sees and knows everything," read Jamal's message.