Ispahani-Prothom Alo inter-uni football kicks off on July 14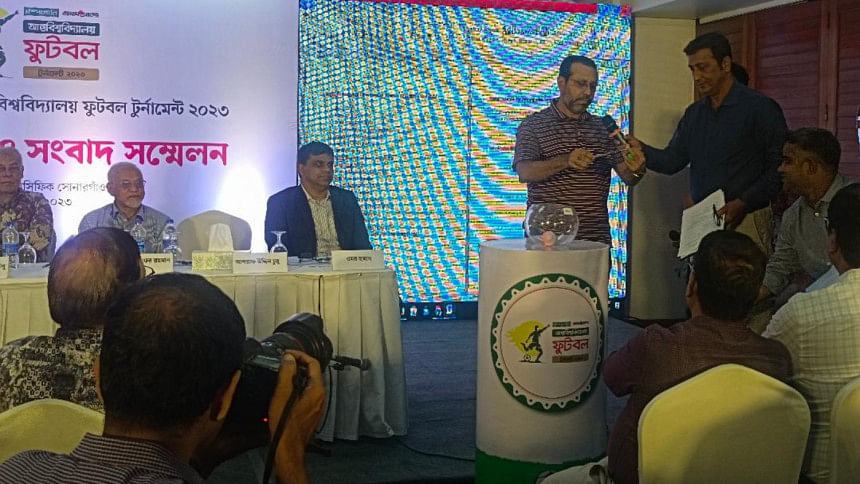 The Ispahani-Prothom Alo Inter-University Football Tournament will kick off on July 14 in Chattogram, informed organisers at a press briefing at a hotel in the capital on Sunday.
The tournament will feature 33 universities – both public and private – at preliminary level, which will be held in Chattogram, Cumilla and Dhaka. The final round will be held at the Daffodil International University campus in Dhaka with eight teams while the final match will be held on July 29.
All the matches will be of 70-minute duration with a 10-minute recess. The teams will have a 20-member squad each.
The champion team will receive Tk five lacs while the runners-up team will get Tk three lacs, informed organisers at the press briefing.
The press briefing was conducted by Prothom Alo's head of sports, Utpal Shuvro, while the newspaper's editor Matiur Rahman, former national team coach Golam Sarwar Tipu, former national footballer Ashrafuddin Ahmed Chunnu, Daffodil University's vice-chancellor Dr Lutfor Rahman, Ispahani Group director Zahida Ispahani and the company's general manager Omar Hannan also spoke on the occasion.
The event was attended by, among others, former footballers and coaches like Maruful Haque, Saiful Bari, Shafiqul Islam Manik, Imtiaz Sultan Jonny, Kaiser Hamid, Imtiaz Ahmed Nakib and Alfaz Ahmed.
Bangladesh Football Federation's referees' committee chief Azad Rahman conducted the draw ceremony for the tournament.
Golam Sarwar Tipu will lead a 19-member tournament committee while Ashrafuddin Ahmed Chunnu will lead the technical committee.