Harry Kane lauded as 'greatest of all time'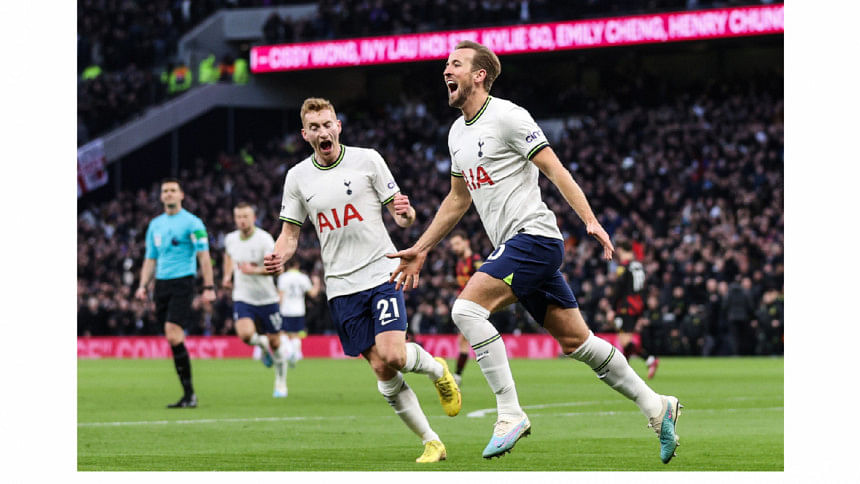 Harry Kane was lauded as the greatest of all time after his record-breaking strike against Manchester City.
The England captain moved past Jimmy Greaves' Tottenham scoring record with his 267th goal for the London club on Sunday.
His calm 15th-minute finish proved the difference in a 1-0 win over City as Kane joined Alan Shearer and Wayne Rooney as the only men to score 200 Premier League goals.
Spurs talisman Kane achieved the feat in two games fewer than Shearer (306), while Rooney needed 462 to hit a double century, and coach Cristian Stellini believes no player compares to the 29-year-old.
"Harry Kane, in his DNA, he has football. He understands football in every moment," Stellini, standing in for Antonio Conte after the Tottenham head coach underwent gallbladder surgery, told Sky Sports.
"He can play in any position. He is the GOAT [greatest of all time] in this league, in this sport. He is a great example."
A narrow victory, in which Cristian Romero saw a late red card for two cautions, moved Spurs within one point of fourth-placed Newcastle United, having played a game more.
Videos emerged after the game of Conte congratulating the record-setting Kane, as Stellini hailed a battling performance in the absence of the Italian.
He added: "It was a tough week and we have to give a great compliment to all the players and the staff.
"It was a tough week because we lost Antonio, hopefully he'll be back next week. He'll be back happy now. I spoke to him on the phone just now and he said congratulations to the team and especially Harry.
"The key was the capacity to suffer when City has the ball. We know when we play against this team we have to suffer because they have the ball a lot, but we moved well in the defensive situation and defended the goal in a brilliant way.
"We knew very well that in that game [the 4-2 defeat to City last month] we lost our key – our capacity to suffer. We lost that last time, we spoke about that situation and that we had to be angry, motivated.
"To reach our target, we have to suffer more, to fight. When you are winning against City, they can play with great pace. You have to be strong and we controlled the space very well."