Goalkeepers steal the show at Women's World Cup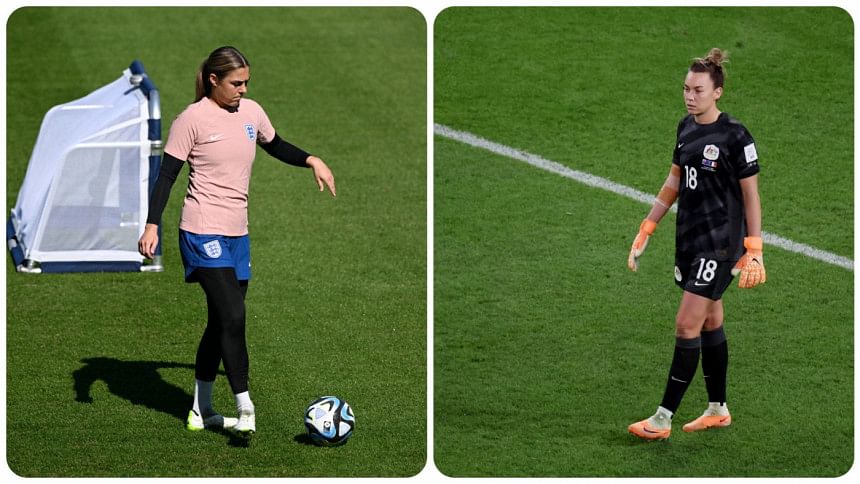 Australia goalkeeper Mackenzie Arnold surely won a legion of fans with her steely-eyed heroics in Saturday's quarter-final penalty shootout victory at the Women's World Cup.
Once the target of criticism in the women's game, goalkeepers have been show-stoppers Down Under with umpteen theatrical game-salvaging saves.
Arnold - known affectionately as "Macca" - saved three spot-kicks against France on Saturday, despite pinging her own penalty kick off the post.
Calling it the "craziest game" she had ever played in, the 29-year-old West Ham keeper had to stop Kenza Dali's spot-kick twice after the referee whistled Arnold had moved off her line.
"For Macca, missing that penalty and then staying in the game and being that player that wins the game for us, it's unheard of," raved Matildas coach Tony Gustavsson. "I mean, that mental strength of hers."
Of the 60 games played through three rounds, goalkeepers have been named player of the match in nine of them, including Arnold.
Netherlands coach Andries Jonker was full of praise for Daphne van Domselaar after the Aston Villa keeper's string of saves against South Africa helped secure the Dutch a spot in the quarter-finals.
"Four years ago, there were goalkeepers that could not deal with the ball just under the bar and now we've got a whole generation of very athletic goalkeepers, who don't let in that kind of ball," Jonker said.
"Daphne is one of that new generation," the coach added. "They're athletic, they're in good shape, they've got good positioning, so the developments in that area are incredible and the Netherlands are right along there."
Nadine Angerer, who kept goal for Germany in their World Cup triumphs of 2003 and 2007, said there were clear signs of improved goal-keeping standards.
"Overall, there's way better goalkeeper performances," Angerer said at FIFA's Technical Study Group (TSG) press conference on Aug 4. "Especially I want to highlight . . . making the decision to come out and then a decision whether to punch it or to actually catch the ball.
"We saw an absolute increase in decision making to come out and then finally, the punching technique and the punching has improved."
Forty-six percent of teams have kept a clean sheet in a game, up from 33% from four years ago. And save percentages with the hands have risen from 74% to 78% despite there being more attempts at goal from within the penalty area.
"The positioning of the goalkeepers, they're way more connected to the defence line, the positioning is higher, and the timing is better," Angerer added. "They're coming out more ruthless. And yeah, the technique itself is better, so that's one area we saw big improvement."
England's Mary Earps was named FIFA female goalkeeper of the year for 2022, and the Manchester United player has shown why at the World Cup. She conceded just one goal during a group stage in which the Lionesses outscored opponents 8-1, while leaping and diving in an array of dazzling saves.
"I personally love to see when goalkeepers are doing well," Earps said. "Obviously, we talk about the 'goalkeeper union' and that's something that might be a bit of a cliche, but it's really, really true.
"I very much hope (people are) praising goalkeepers, because I think the performances have been fantastic and deserve a lot of credit."
Days before the World Cup kicked off, Earps voiced her anger in Nike excluding her shirt in the jerseys that were available for fan purchase.
Sixteen-year-old Emmy Somuaroo started a petition on change.org calling on Nike to reverse the decision. It has over 38,000 signatures so far.