Rubiales 'damaging image' of Spanish football: Iniesta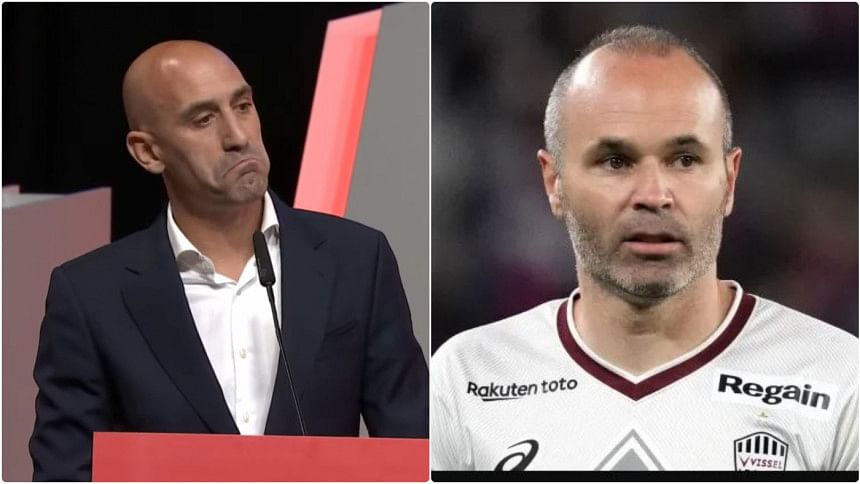 Spanish football legend Andres Iniesta on Sunday added to mounting criticism of the country's suspended federation president Luis Rubiales, saying his forced kiss with Jenni Hermoso after the women's World Cup final was "damaging the image" of Spanish football.
"After what has happened this week I would like to convey my sadness as a person, as a father of three daughters, as a husband and as a footballer" at what has happened around "our football and around the Spanish women's national team", Iniesta wrote on his social networks.
"I believe that we cannot tolerate actions like the ones we have seen, which have tarnished such a great milestone as winning a World Cup," added the scorer of the goal against the Netherlands in the 2010 men's final, which gave Spain their first World Cup.
Hermoso said "at no time" did she consent to the kiss on the lips following the 1-0 win in the final against England in Sydney, which Rubiales described as "mutual, euphoric and consensual".
Hermoso and 80 other Spain players, including the entire World Cup squad, said they will not play for the national team until the Spanish football federation (RFEF) "leadership" changes.
The majority of the women's team's coaching staff have also offered their resignations.
On Sunday, the RFEF's Sexual Violence Protection delegate clarified an "investigation process" was underway and that a federation press release on Saturday, responding to Hermoso's union Futpro, was not from her committee.
World football governing body FIFA suspended Rubiales from his post on Saturday for 90 days, while the Spanish government are working on their own suspension, which could happen Monday.
"I can't imagine the feeling that all the national team players must be feeling right now seeing how they are not talking about the great tournament they had and the fantastic football they taught us all," continued Iniesta.
"Instead, we have had to put up with a president who has clung on to his position, who has not admitted that his behaviour has been unacceptable and is damaging the image of our country and our football around the world.
"It's a shame that a beautiful story that so many players have built over so many years has been soiled."
Criticism for Rubiales has gone far beyond the world of football.
"I stand with Jenni Hermoso," American actress Natalie Portman posted on Instagram.
'Complete innocence' 
The RFEF responded to FIFA's suspension by saying on Saturday Rubiales will defend himself "so the truth prevails and his complete innocence is proven".
The 46-year-old, however, may face further complications with Spanish media reporting Sunday that the country's administrative court for sport (TAD) will meet on Monday to consider a request from the government to suspend him from his duties as president.
This could last longer than FIFA's 90 days depending on how the court views the government's charges against Rubiales of "very serious offences", a possible "abuse of authority" and "acts that undermine sporting dignity or decorum".
"The only sanctions provided for by the Sports Law are to impose a fine or ineligibility for a period of between two and fifteen years," sports lawyer Toni Roca said in an interview on Spanish public television Sunday.
"We are going to ask the TAD to meet on Monday," said Spain's Minister for Sport, Miquel Iceta, in an interview with daily newspaper El Pais on Saturday.
"If the TAD accepts the government's complaint, we will immediately suspend the president from his duties."
The RFEF, under interim president Pedro Rocha, have called a new emergency meeting for Monday between presidents of the regional federations, a source close to the matter told AFP.