Choton's charges 'followed full plan to a tee'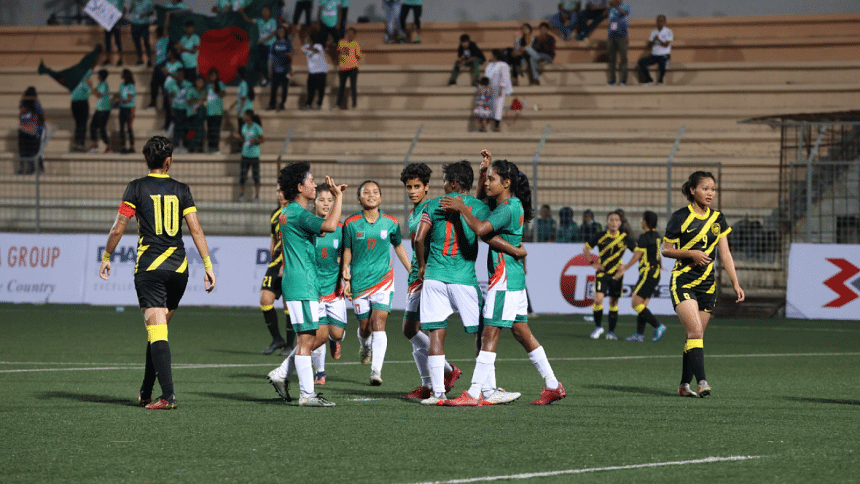 Bangladesh women's football team's head coach Golam Rabbani Choton said that his charges are much more experienced compared to their 2017 self after Bangladesh thumped high-ranked Malaysia 6-0 in the first of the two FIFA friendlies played at the Birshreshtha Shaheed Mostafa Kamal Stadium in Kamalapur today.
Although it was the same group of girls who had suffered a 1-2 defeat to their Malaysian counterparts five years back during their preparation for the AFC U-16 Women's Championship in Thailand. However, Malaysia – who are 61 places ahead of Bangladesh in FIFA rankings -- were no match against the girls in red and green at their own backyard.
"That time Shamsunnahar and Maria Manda were 13 years old, Nila was at 14 and Monica made an international debut in that match against Malaysia," Choton recalled post-match today.
"Swapna also played well in that match to create four to five chances but we could not capitalise on those opportunities. But we conceded goals from silly mistakes," explained the coach.
"But since then, the group of girls played a lot of international matches and won matches against Myanmar, Bhutan and India. So, they have gained a lot of experience and they are now matured."
Asked whether they expected a win of such a margin, Choton said, "We believed the girls would play a competitive match because we have just been working on the mistakes the girls made during the women's Asian Cup Qualifiers against Jordan in Uzbekistan last year. We are confident that we could produce good results if we made fewer mistakes against Malaysia."
Choton also informed that they adopted to play high-pressing and quick, attacking football. The girls followed the full plan to a tee and this is a big positive.
Malaysia coach Jacob M. J. Joseph said they have come here to see their players as part of their preparation for the AFF tournament next month.
"We knew Bangladesh are well prepared and they have some fast players but we could not defend well today. Besides, the girls were a bit scared playing in front of a huge crowd but we are hoping to recover it in the next match," said Joseph, adding he was quite surprised with the result.