Bangladesh have Rui Bento's respect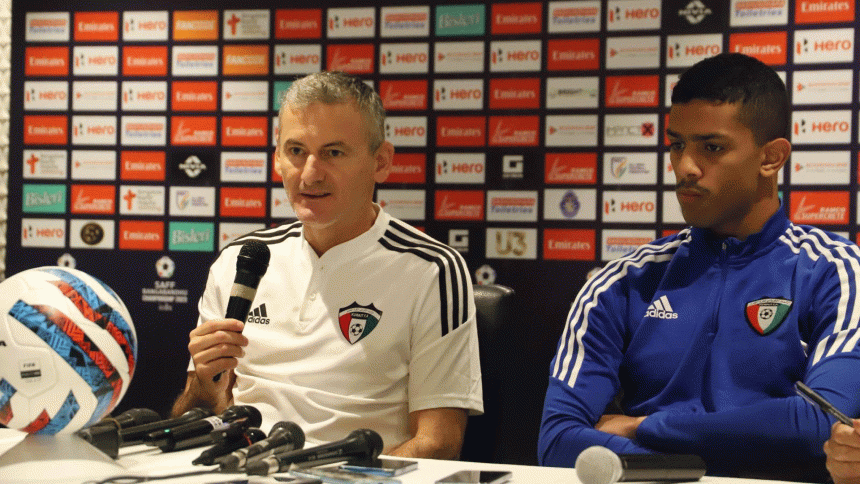 Kuwait coach Bento believes Bangladesh improved their standard of play compared to last month as his charges are all set to take on the men in red and green in Saturday's first semifinal of SAFF Championship in Bengaluru.
Invited Kuwait, the third-highest ranked side in the tournament after India and Lebanon, stormed into the semifinals with wins over Pakistan and Nepal and a draw against India. They have scored eight goals in three matches. Bangladesh, on the other hand, reached the last four with two come-back wins following an opening match defeat against Lebanon.
Rui Bento said he won't be taking Bangladesh lightly.
"I think the Bangladesh team last month (got) up their level and I hope for a competitive game. If you don't respect the opponents, normally the team will face problems. We need to prepare our players for the match. Now we need to understand what is the best point of Bangladesh and we need to understand how we can imbalance Bangladesh tomorrow," said the Portuguese coach at a pre-match conference in Bengaluru.
Asked whether he thought the semifinal will be easy like those against Nepal and Pakistan, Bento said, "In my opinion, there is no easy game in football. You need to look forward because all teams want development with a lot of foreign coaches coming from Europe. In the end, nothing is easy. My opinion is that we need to build the game from the opening of the game."
"We need to respect Bangladesh and we look at the game like other games. We need to try our best in the field despite good results in the group stage. We need to work a lot," said Bento.
Bangladesh have never beaten Kuwait at the senior level, having lost twice – 2-1 in Merdeka Cup in 1973 and 4-0 in Seoul Asian Games in 1986. However, Bangladesh U-19 side beat their Kuwaiti opponents 1-0 in AFC U-19 Championship Qualifiers in 2013.