We were close to three points: Cabrera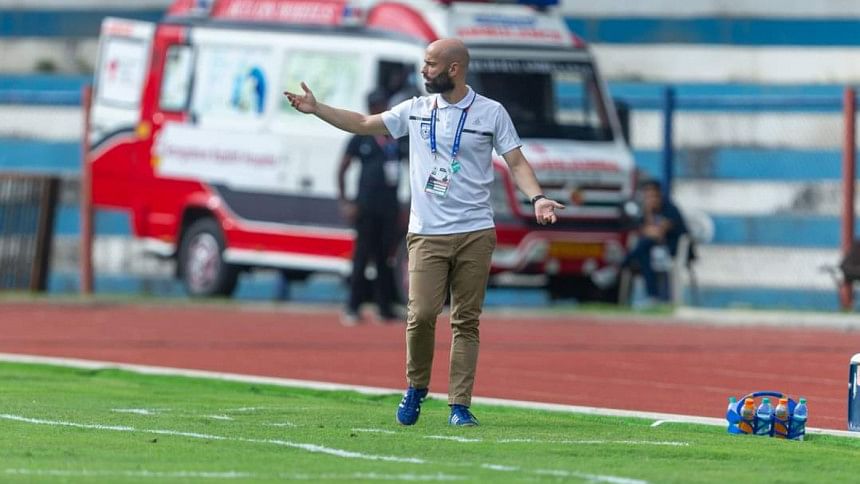 Bangladesh coach Javier Cabrera was disappointed with the 2-0 loss against Lebanon but expressed pride in the fight his charges showed against a much superior side in a SAFF Championship encounter at the Sree Kanteerava Stadium in Bengaluru yesterday.
"It is disappointing to not get even one point. We deserved it. I think we were close to three points. We were very confident from the beginning and the feeling and atmosphere in the team was that we were going to achieve something today," a dejected Cabrera said after the match.
"Still, I am proud of the performance. It was very positive in the sense that if we are able to match that level in the next two games, we will definitely have a chance to qualify [for the semifinals]," the 38-year-old said.
"The way we conceded goals is not the point. The point is that we conceded goals and were unable to get points. Forget it now and show the same attitude and same belief and we will make it next game."
The Spaniard added: "The game went as expected. We knew we were going to suffer in the beginning but we knew that we could settle down slowly. We had control of the game and had some chances to counter. We even had a chance to make it 1-0. In the end, they have very good individual players who did what they are capable of."
Expanding more on the mistakes from defenders and Fahim's missed opportunities, Cabrera said: "All mistakes are mistakes and all successes are successes.
The defence was perfect for the whole game against a strong team that press, cross and have players that make things difficult in the box. We conceded, but you are talking about a team that are in the top 100 in the FIFA Rankings. It is normal. We knew it would happen because they are a strong team. Especially when Hassan Maatouk entered the pitch, more problems were introduced. We had a chance to close the game, but we could not do it."
Cabrera's counterpart Aleksandar Ilic expressed satisfaction with the result.
"We need to be satisfied with the result. It was very difficult for us because I gave chances to players who did not play before, but we made changes in the second half and that changed the scenario," Ilic opined.
Replying to a query, the Lebanon coach said: "Yes, it is a big difference in terms of rankings, but it was difficult because our footballing values are different. Bangladesh did very well defensively and we did not get many chances in the first half. But in the second half, the situation changed and we scored."